« Obituaries | Lucien Doucette
Lucien Doucette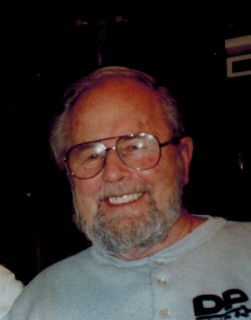 Date of Death: May 19, 2017
Date of Birth: January 29, 1929
Biography:
Lucien (Chuck) Doucette, 88, best known as "PEP" joined his love Rita in heaven on 5/19/17. He was born on January 29th, 1929 in Lewiston, Maine.
He delivered milk for Hood's for many years, prior to his retirement as the 1st Lottery Ticket Agent for the State of Maine Lottery. He loved sports whether it be New England National Teams, or watching his grandchildren play. He was very loyal to his family and friends, a great dad, Pep & truly a great human being loved by many.
He is survived by his sons Charles and wife Celia, Paul & wife Connie, daughter Denise Fontaine and daughter-in-law Anita Doucette and companion Bernie Loef. Grandchildren Nate & Katie Doucette, Ryan, Jeff Doucette, Nicole Doucette Leach, Sean, Ian & Danielle Doucette and Mike Fontaine, and 9 Great grandchildren, and life-long friends Dick & Therese Perron, and Bob Blanchette, and many nieces and nephews.
Predeceased by parents and siblings, wife Rita, son John and grandson Bryan Fontaine,
Special thanks to Dr. Michael Isaac and staff, Dr. David Abisalih and staff, and Androscoggin Home Health. And you too, Mary!
Committal prayers and music will be shared at 10am on Friday May 26th, 2017 at St. Peter's Cemetery in their mausoleum. In lieu of flowers, donations may be made to St. Martin de Porres Residence c/o Deacon Irenee, PO Box 7227, Lewiston, ME 04243-7227.