« Obituaries | Therese Dostie
Therese Dostie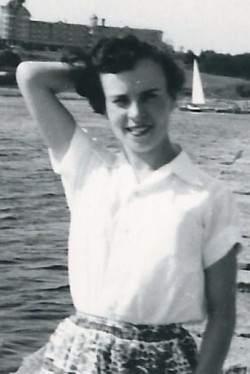 Date of Death: June 26, 2018
Date of Birth: July 5, 1931
Biography:
After several years of declining health, Therese Dostie, age 86 and a lifelong resident of Augusta, peacefully passed away on June 26th, 2018 at MaineGeneral Hospital in Augusta.
Therese was born in Augusta, Maine on July 5, 1931, the daughter of Esdras and Marie Anne (Ouelette) Gregoire. She was educated in the Augusta School System and was a communicant of St. Augustine Catholic Church of the Parish of St. Michael.
She is pre-deceased by her parents and husband, Robert Dostie who died on October 8, 1971 from a tragic accident on his family farm known as Dostie Brothers Dairy Farm which is now the home of MaineGeneral Hospital and Alfond Cancer Center. She is also pre-deceased by three brothers, Laurier, Donald and Moril Gregoire and four sisters, Rita Gregoire, Juliette Dailey, Constance Rodrigue and Priscilla Violette. The is survived by two sons, Normand of Augusta and Greg and Partner Russell Mills of Hallowell, Florence Maheux and Lorraine Beaudry and husband, Val and many loving nephews, nieces, cousins and friends.
After completing her education she was employed at Hazzard Shoe Company until her marriage to Robert on August 9, 1958 at which time she became a fulltime homemaker while raising her two sons.
Therese was a homebody who enjoyed many hobbies such as sewing, cooking, reading, square dances, listing to music and watching her favorite T.V. programs. During her younger years she enjoyed going to the movies, bowling, drawing and again many other great hobbies. Therese will be greatly missed by her family and friends.
The Family would like to extend a very special thank you to the staff of MaineGeneral
                                                                                     Hospital.
     A graveside service will be held at 9am on July 3rd, 2018 in the chapel at the Maine Veterans Cemetery on Mt. Vernon Rd. in Augusta. In lieu of flowers, donations may be made to assist with funeral expenses, care of Greg Dostie 3 Perleys Lane, Hallowell, Maine 04347