« Obituaries | Clinton Knox Dobson Jr.
Clinton Knox Dobson Jr.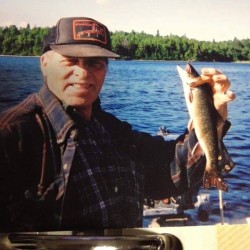 Date of Death: February 3, 2016
Date of Birth: December 3, 1942
Biography:
Clinton Knox Dobson, Jr., 73, died peacefully on February 3rd, 2016, in Lewiston, Maine, with his family by his side. He was born on December 3rd, 1942 in Yarmouth, Maine to Clinton Knox Dobson and Geneva (Baker) Dobson.
Affectionately known as Buzzy to his family and friends, he was a equipment operator by trade. He worked for many years at H. Finkelman's in Portland. He also worked for Grimmel's Industries in Topsham, retiring in 2008.
You could always find him with a cigarette in his mouth and a cold beer in his hand, working on something. His occupation may have been "equipment operator", but he was a mechanic, carpenter, electrician, welder, and gunsmith, all rolled into one. A jack of all trades and master of them all.
Buzzy was an avid outdoorsman. His favorite activities (besides drinking and smoking), were fishing, hunting, boating, and target shooting. He enjoyed a good campfire. He was a lone wolf, and while he did not seek out company, he would welcome friends and family to share these favorite moments with. 
He loved gardening and spent almost 30 years trying to grow apple trees on his property in Poland. The deer, however, had other plans. And whenever Buzzy was asked why he didn't put something around the little trees to protect them, he offered little explanation. Some people joke that he just wanted another thing to complain about.
In the last few years, Buzzy's health declined and while he could no longer enjoy his favorite activities, he adapted and found some new ones. While he was never one to spend hours in front of a television, he now preferred the safety and comfort of his own home. He rekindled his love for old westerns and the Price is Right. He despised the contestants that bid just one dollar higher than the high bid on the showcase, and would not hold back on just what he would do to them if he was there.
He will be fondly remembered for his love of jelly beans, his contempt for porcupines, having an eye for unusual antiques, and his self-sufficient ways.
He was stubborn and stoic until the very end, never complaining about the pain his daughter and doctors knew he must have been experiencing.
He is predeceased by his parents, brother Allen, and two marriages.
Survivors include sons Clinton Knox Dobson III and fiancé Julie Lane of Portland, Daniel Dobson and his wife Heidi of Portland, Randy Dobson and fiancé Carol Tapley of Westbrook; daughters Terina Dobson and boyfriend Chad Hickey of Auburn, Brenda Blouin and husband Alfonse of Lewiston; three brothers, John Dobson and his wife Viola of Auburn, Richard Dobson and his wife Pam of Sangerville, and Michael Dobson of New Gloucester, ME.; two sisters, Rose Hamil and her husband Joe of King William, VA., and Gloria Dobson of King William, VA.; several grandchildren and great-grandchildren.
The family would like to extend tremendous heartfelt thanks to the entire team at Androscoggin Home Care and Hospice, for providing such peace and comfort during those final days.
There will be no visiting hours. A celebration of life will be held at Buzzy's pond in the spring. Friends and family are welcome to share stories, pictures, and beer.