« Obituaries | Lorraine C. Dixon
Lorraine C. Dixon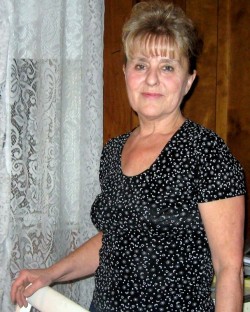 Date of Death: June 8, 2023
Date of Birth: January 8, 1947
Biography:
Lorraine C Dixon, 76, was a loving and caring wife, mother, grandmother, sister, and friend. Lorraine peacefully entered into heaven on June 8th. As a Christian Lorraine helped many and was helped by many.
Born in Lewiston at Central Maine General Hospital, she was the daughter of Charles and Eva Poliquin. As a life-time resident of Lewiston, Lorraine was well known in the community, especially in her neighborhood. Lorraine's yard was always open to family, friends and neighbors. A place to stop in, chat and share.
Lorraine retired in 2001 after working many years as a Caregiver where she supported and cared for her elderly father. Prior to that Lorraine worked for Broxmeyer Apartments, and in her younger years Lorraine worked at Knapp Shoe. Lorraine always took pride in her ability to contribute to her family, friends and her community.
Lorraine had many gifts. She especially had the gift of mercy. Lorraine had an extended reach for people in need. Lorraine's heart was huge. She was compassionate and had deep empathy for those around her. Lorraine had a tremendous heart for the children at St.Judes Children's Hospital. She was an avid supporter of St.Judes. It was a priority to her to make a difference in the lives of the children who were battling cancer. She would speak of the children often. Lorraine also had a very big and caring heart for animals. Just recently Lorraine adopted a sea turtle named "Tutis" from the National Marine Life Center. Her generous donation contributed to saving Tutis. That is who Lorraine was. A generous, loving, compassionate and deeply loving soul.
Lorraine was always happiest spending time with her husband Bob and her daughter Lisa and her son in law Kevin, her granddaughter Miranda and her granddaughter's husband Phil whom she called "Monkey". Lorraine loved playing rummy with her granddaughter Miranda. She also loved being outside in her yard having barbecues with family and friends. She also loved drinking Dunkin Donuts coffee. Lorraine loved summertime. Lorraine always looked forward to watching her roses bloom in the yard. She would want to be remembered when the roses bloom. A reminder to each and everyone of us to stop and smell the roses; appreciating and living each day to the fullest.
Lorraine also loved to go to area garage sales, she was excited to find the deals and then would come home to share her treasures with her family. She loved to brag about the deals she made. She loved wheeling and dealing with people. As she would say, "There's nothing wrong with making a buck". Lorraine also loved to take rides with her husband each and every day. She enjoyed rides around Lake Auburn and stopping at Tabers Lakeside Stand.
She is survived by her husband of 54 years, Robert Charles Dixon, their one daughter, Lisa Lynn Dixon and her husband Kevin Earl Brockett of Auburn. Her granddaughter Miranda Lynn Dixon and her husband Phillip Joseph Ronald Foss. Four sisters; Pauline L'Italien, Jacqueline Sullivan, Anita Dwyer, and Charlene Poliquin. Five brothers; Charles, Robert, Peter, Paul and Leo Poliquin. She was predeceased by both her parents, Charles and Eva Poliquin, and her sister Theresa Pride of Sabattus.
A Memorial will be held in her honor at her home at a later date set by her immediate family and close friends.

In lieu of flowers please donate to St.Judes Children Hospital at https://www.stjude.org or the Androscoggin Humane Society at https://gahumane.org/.