« Obituaries | Louis Walter Dillman
Louis Walter Dillman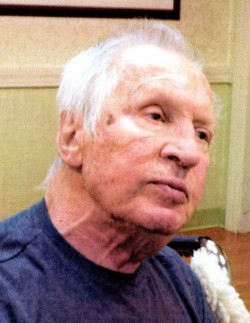 Date of Death: April 30, 2019
Date of Birth: January 26, 1927
Biography:
TOPSHAM - Louis Walter Dillman, 92, died peacefully on April 30, 2019 as a result of age and Alzheimer's. He lived with the disease for nearly two decades, first at home and for the last 18 months at a full care home. Even when signs of the disease became more visible Louis continued his favorite activities, reading, gardening, visiting with friends, and foremost music. His interest in playing music began in high school with violin lessons. He played in Annapolis with small groups of friends and was considered a decent player. While waiting for his results from his California Bar Exam, he took up the cello and did so seriously! He joined an amateur orchestra and practiced daily for fifteen years until a pinched nerve forced him to quit. Then Louis turned to choral singing. At age 60, Louis and Karin moved from Seattle to Brunswick. They joined the First Parish church and Louis joined the choir under Ray Cornils, and sang with the Oratorio Chorale under Peter Frewen until his energies diminished. Singing, however, continued to the end of his life at the Respite Program of the Brunswick Alzheimer's Association and during activities at Hill House in Bath.
Louis spent most of his childhood on the family farm in North Manchester, Indiana. He always reminisced fondly of that and the chores he had to do before school. He learned many farm skills which served him well later in home and garden projects. Many friends profited from his skills because Louis was always generous with his time.
After he enlisted in the Navy he received an appointment to the Naval Academy, 1945-1947. Then it was off to flight training, and life on an aircraft carrier during times of war and conflict. Louis served with distinction during World War II, Korea and two tours in Vietnam. He has received a total of seven medals, including an American Campaign Metal, Victory Metal WWII, Naval Occupation Metal, Armed Forces Expeditionary Metal, and three Bronze Stars. Louis eventually went on to teach seamanship at Annapolis and while there obtained an M.A. in Personnel Administration from GeorgeTown University. After retirement from the Navy, Louis spent a year abroad to study French in Paris where he fell in love with Karin van Stratum, a young woman from the Netherlands. They were married in Paris and as tales go, he swept her off to the United States to live a charmed life. They recently celebrated 48 years of that life together, 1971-2019.
They moved to San Diego where Louis was last stationed. He and Karin both enrolled in University of San Diego. Louis in Law, and Karin in French and June Comparative literature. …They loved the Californian life and became enthusiastic joggers and hikers. They explored the Anza Borrego desert and trails high up in the Sierra Mountains. In that environment, Louis proved skilled as well; he always found pathways over glaciers, through thick brush, or crossing streams.
When Louis was well into his late seventies he and Karin decided to mentor and give financial support to two young people. First to, Joseph Jackson, an inmate At Maine State Prison. Joseph was eager to earn a degree. Then to Olesia, a high school student from the Ukraine. They tried to adopt Olesia, and when that failed decided they were going to support her as if she were. Olesia attended Catherine McAuley high school in Portland and was later admitted to the American University in Bulgaria. After two years, she moved to Madrid where she completed her studies and obtained a B.A. Joseph obtained his B.A. while at Maine State Prison. After release, he lived with Karin and Louis helping out around the house while attending classes at the University of Southern Maine, where he received an M.A in creative writing from Stone Coast. He began work for Maine Prisoner Advocacy Coalition (MPAC) in 2014, and now also works with formerly incarcerated youth as Community Liaison with Maine Inside Out.
After the death of his mother, Louis was the oldest of his generation, he is survived by his younger brother Tom and his wife Mary Alice, and their children, and the children of his sister Rosemarie (predeceased).
Family and friends on both sides of the Atlantic will mourn Louis' passing as we celebrate his life.
On June 6, at 11:00, a memorial service will be held at First Parish Church in Brunswick and on June 12 at 1:00, there will be a military tribute in Augusta.