« Obituaries | Germaine Mary (Gould) Desjardins
Germaine Mary (Gould) Desjardins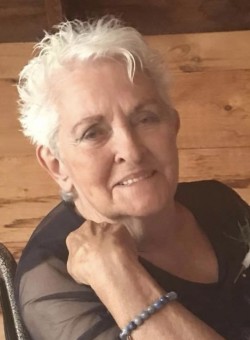 Date of Death: July 2, 2023
Date of Birth: August 30, 1940
Biography:
Lewiston- Germaine Mary Desjardins (Gould), 82, of Bowdoin, passed away peacefully surrounded by family on July 2, 2023. Born on August 30, 1940, in Biddeford, Maine, Germaine was known as a beloved mother, grandmother, great-grandmother, cousin, friend, and will be deeply missed by all who knew her.
 Germaine is survived by her loving daughters Michelle Hawkins and her husband, Alex; Jeannine Chadbourne and her companion, Paul Paquette; Denise Caron; and Suzanne Goulet and her husband, Captain Jonathan Hightower. She is also survived by her two sons, William Chadbourne and his wife, Yun Cha and John Chadbourne and his wife, Wanda.  Germaine cherished the time spent with her grandchildren, Daniel Chadbourne and his wife, Rebecca; Ashley Whyles and her husband, Shawn; Tyler Barnies and his wife, Mykayla; Nicholas Hawkins and his companion, Kayleigh; Aaron Pelletier and his wife, Michelle; Laurie Caron and her companion, Tyler; Joshua Chadbourne; Lindsey Sawyer-Brown and her husband Ethan; and Melissa Brewer and her husband, Jaime; Germaine also cherished her great-grandchildren. Germaine also had an innate love for all animals, and leaves behind her precious Coco.
 Germaine was preceded in death by her parents, Joseph and Irene Gould, her sister, Mary, and her son-in-law, David Caron.
 Germaine attended and graduated from Cathedral Schools of Portland and dedicated many years of her life to compassionately serving others as a Medical Tech CNA at D'Youville Nursing Home in Lewiston before retiring to sunny California.
 In her free time, Germaine enjoyed pursuing many hobbies.  She was an avid artist and photographer, capturing the beauty of nature through her lens and paint brush. She also enjoyed crafting loving birthday and holiday cards, spreading joy to her loved ones with her creative talents.
 Germaine will forever be remembered for her loving nature, dedication to her family, and her kind heart. Her memory will live on in the hearts of all those who were fortunate enough to have known her.
 Memorial services in honor of Germaine's life will be held at 11am at Holy Cross Church on July 28, 2023 followed by burial services at St. Peter's cemetery. 
In lieu of flowers, the family kindly requests that donations be made to the San Diego Humane Society in Germaine's memory. She had a deep love for animals and supporting this cause would honor her compassionate spirit.
Condolences may be expressed at www.funeralalternatives.net