« Obituaries | Craig Decker
Craig Decker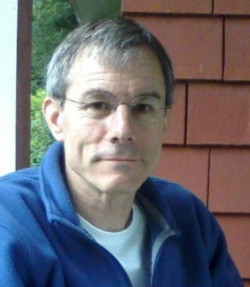 Date of Death: March 17, 2018
Date of Birth: July 26, 1956
Biography:
Craig Decker—Lewiston—Craig Decker. Professor of German and European Studies at Bates College, died March
17, 2018 at Central Maine'Medical Center. The cause was cardiac arrest precipitated by
respiratory failure. Born in 1956 in Newark, New Jersey, Craig was raised in Kinnelon, New Jersey by
Russell and Clara Decker. A first generation college student, he arrived at Bates College
at 18 years of age having read one book: a sports biography. Four years later, he had
honed his reading, writing, and critical thinking skills; played kazoo in the Bates
marching band; studied in Munich, Germany for a year; been elected to Phi Beta Kappa;
and earned a summa cum laude Bachelor's Degree with Highest Honors in German. He
subsequently received his PhD in German from the University of California, Irvine.
After teaching at Oregon State University for one year, he was hired by Bates College .He and
Susanne Fetherolf got married at the Benton County Courthouse in Corvallis, Oregon on
a Friday the 13th, then drove across the country to start their married life in Lewiston.
Over the course of his career, Craig taught courses ranging in breadth from Beginning
German to German Cinema to Austria in the Twentieth Century, He developed and led
programs for Bates students in Berlin, Germany and Vienna, Austria. His publications
include many articles, as well as books he edited and translations of works that originally
appeared in German, Active in many professional organizations, he served as editor of
the journal Modem Austrian Literature and as President of the Austrian Studies
Association.As intellectually rigorous as Craig could be, his primary interest was always people. His
research and teaching focused on how literature and drama illustrated the effects of
history, economics, culture, and politics on human lives. Wherever he went, he was
interested in what others had to say. He loved talking politics and life with his college
classmate Les Wilkinson at China Lake. spending hours over a meal with his dear friend
Gerda Neu-Sokol, reading at Reid State Park, and doing crossword puzzles anywhere. He
treasured friendships from his childhood in New Jersey, from college and graduate
school, and from his Lewiston neighborhood and work. His contact with writers,
friends, and colleagues living abroad pleased him and kept him alert to international
issues, and hearing what former students accomplished in their lives brought him great
happiness. .In addition to his wife, Craig's survivors include his son Andrew (Shannon), daughter
Grace, two grandchildren, brother-in-law David (Carrie), cousins, countless students
taught over the past 34 years, and a remarkable family of friends and colleagues at Bates
College that has supported and sustained him and his family through many challenging
times. Per his wishes, a family memorial will take place on the Maine coast this summer.
In lieu of flowers, please consider memorial donations to Bates College or a charity of
your choice.