« Obituaries | Barbara Mosher DeWolfe
Barbara Mosher DeWolfe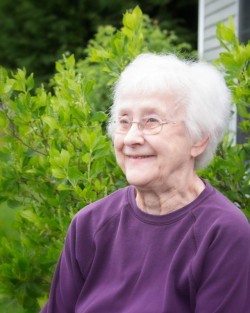 Date of Death: May 8, 2016
Date of Birth: March 3, 1929
Biography:
Augusta-Barbara Mosher DeWolfe of Granite Hill, Hallowell, Maine died during the early morning Sunday May 8, 2016 after a brief illness.
Barbara was the center our family's life. She was known for her love of knitting, gardening, cribbage and bridge. She was born in Brewer, Maine on March 3, 1929 and was raised in Bangor, Maine. Barb met the love of her life, Bill, at Ferry Beach in 1945 and their journey through life together included stops in Massachusetts, Texas, Missouri and Ohio. She and Bill retired to Damariscotta in 1996 and moved to Granite Hill in 2007. They built a large extended family throughout their travels in life and her loss will be felt widely and deeply.
Her dedication to the Unitarian Universalist faith was demonstrated throughout her life. She advocated for peace, human rights, civil rights, and women's rights through her work with the church and in the community. She was among the first certified Directors of Religious Education in the UUA and was very active at the denominational level in curriculum development. Barbara and Bill's dedication to Ferry Beach Park Association, the Unitarian Universalist conference center in Saco, ME, included many years as conference leaders for youth and family programs and culminated with their lead donation for the construction of the DeWolfe Dining Hall in 2011.
She attended Jackson College and received her AB in 1950. Barbara always said that she never knew what she wanted to be in her professional life, but worked in public education, religious education, fair housing, community development, real estate and hospital volunteer management while she waited to figure it out.
She is survived by her sons: Rick (Hillary) of Towson, Maryland, and Paul (Ellen) of Missoula, Montana, four grandchildren: Abby DeWolfe (Seth) of Kensington, MD; Reid DeWolfe (Courtney) of Somerville, MA; Jack DeWolfe of Barre, VT and Emily DeWolfe of Portland, OR and two great-grandchildren Sebastian and Madeline Patch of Kensington, MD. Her pride and joy in her family was evident to all who knew her. Barbara was preceded in death by her husband of 65 years, William A. (Bill) DeWolfe, and her oldest son Mark Mosher DeWolfe.
A Celebration of her life will be held in the Dining Room at Granite Hills Estates, 60 Balsam Drive, Hallowell on Saturday May14th, 2016 at 1:30pm with a reception to follow.
In lieu of flowers, the family requests donation in her memory be made to the Ferry Beach Park Association, 5 Morris Ave, Saco, ME 04072.
Arrangements are under the care of Funeral Alternatives Group 198 Western Ave. Augusta, Me 04330.