« Obituaries | Dorothy A. (Caron) DeWitt
Dorothy A. (Caron) DeWitt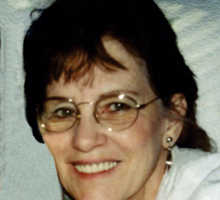 Date of Death: October 26, 2013
Date of Birth: March 12, 1933
Biography:
LEWISTON — Dorothy A. (Caron) DeWitt, 80, passed away Saturday, Oct. 26, surrounded by Love and Peace.
She was born in Lewiston on March 12, 1933, the daughter of Joseph and Valeda Caron. She married Kenneth J. DeWitt, USMC, in 1952, and together they had eight children. Her life was solely dedicated to being a loving mother and watching her children thrive. She gave them her unconditional love and made sure each one knew they were her favorite; they were all her favorites.
She worked at Child's Linen Service and Goodman's Wiping Cloth until her retirement.
Dorothy's passion for singing, dancing and music was undeniable and etched into all her children, introducing them to artists ranging from Kenny Rogers to Led Zeppelin. As many became talented musicians, she received the greatest joy in hearing and seeing them play, joining in with a harp or a melody herself. "Faithfully," by Journey, was one of her favorite songs.
She loved to sew, collect vintage clothing and give things away — making sure everyone got something. Her strong character as a proud, ballsy, comical and cool lady was one to be respected. She will always be remembered for her witty remarks and for telling it like it is. She was one of a kind. But, most of all — she was Loved.
She is survived by her children, Alan and Betsy DeWitt of Wilmington, N.C., Karen DeWitt of Lewiston, Linda and John Hudson of Turner, Michele and Gerard Bonenfant of Monmouth, Diane Carney and Jason Roy of Poland, Michael and Michelle DeWitt of Lewiston and Vickie (Boccamazzo) DeWitt; grandsons, John, Nicholas, Matthew, Samuel, Jimmy and Aaren DeWitt, Myles and Leland Bonenfant and David Carney; granddaughters, Leah, Allison and Anna DeWitt and Caroline Bonenfant; great-grandchildren, Damon and Jade DeWitt and Brendan Zinninger; and brothers, Richard and June of Auburn and Robert and Jeanne of Lewiston.
She was predeceased by her parents; four brothers; two sisters; and sons, Steve A. DeWitt and James P. DeWitt.
The DeWitt family graciously thanks Androscoggin Home Care and Hospice and the Marshwood Nursing staff for the care given to our Mom.
Visiting hours will be held from 11 a.m. to noon, directly followed by a memorial service on Thursday, Oct. 31, at Funeral Alternatives, 25 Tampa St., Lewiston. A committal service will follow at St. Peter's Cemetery, Lewiston.
Condolences may be expressed at Funeralalternatives.net.