« Obituaries | Ellen Griffin DeSerres
Ellen Griffin DeSerres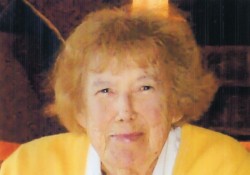 Date of Death: October 27, 2013
Date of Birth: February 5, 1916
Biography:
Ellen Griffin DeSerres died on October 27, 2013, at Glenridge Nursing Home in Augusta, Maine.  She was 97 years old.
Ellen was born February 5, 1916, in Dobbs Ferry, Westchester County, New York, one of three daughters of George Griffin and Margaret Fay.  Her father was involved in Democratic politics in Westchester County, and that interest in liberal causes stayed with Ellen all her life.
Ellen lived in many places over the years, including Connecticut, Hawaii, Florida, Virginia, and Maine, but she was always a New Yorker.  In 1939, she married William DeSerres, and they settled in Queens and New Rochelle, New York, where they raised two sons.  Her husband worked for the New York Yankees and at Forest Hills Tennis Stadium in New York.  He died suddenly at the age of 50 in 1959.  Ellen never married again.
After her husband's death, Ellen returned to work as a legal secretary, a profession she worked at well into her 70's.  She had great respect for the English language, never hesitating to correct faulty grammar.  She told everyone, including her children, that she was 10 years younger than her years, and we believed her.  It was only on her 90th birthday that she freely admitted her age.  She loved to travel, and made life-long friends when she travelled, from cruises to trains.   She never drove a car, but mastered public transportation wherever she went.  In her 80's, she traveled to the Himalayas and rode an elephant in Thailand.
Ellen valued her independence, and maintained her own apartment until she was 94.  In her later years, she became the voice of liberalism as a regular letter writer to the newspaper in Culpeper, Virginia.  She always enjoyed a good argument, and had no problem speaking her mind.
Ellen moved to Maine in 2010, and lived at the Inn at City Hall in Augusta.  Her health declined this summer and fall. She received excellent care at Hillside Terrace in Hallowell,  Graybirch Rehabitation, and finally, Glenridge Nursing Home in Augusta.  Her family thanks the staff at these facilities, as well as Maine General Hospice, for their compassionate care.
Ellen is survived by her two sons, Kip DeSerres of Hallowell, Maine and George DeSerres of Culpeper, Virginia, and their families,  4 grandchildren, and 7 great-grandchildren.
Funeral arrangements are by Funeral Alternatives of Maine.  There will be no service at this time.  Internment will be at the family plot at Sleepy Hollow Cemetery in Tarrytown, New York.
We'll miss you, mom.