« Obituaries | Dean C. DeMoulpied
Dean C. DeMoulpied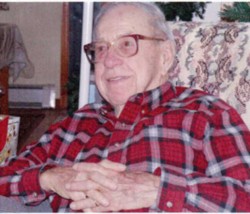 Date of Death: December 8, 2012
Date of Birth: July 12, 1920
Biography:
LEWISTON — Dean C. DeMoulpied, 92, of Montello Heights, died peacefully Saturday, Dec. 8.
Mr. DeMoulpied lived in Wethersfield, Conn., for 30 years and then in Old Lyme, Conn., with his first wife, Emeline (Sissy). With his second wife, Virginia, he lived in Warren, Brimfield, then Ware, Mass. He was an avid golfer, a member of the Quaboag Country Club in Massachusetts. He moved to Monmouth in 2008, then to Montello Heights in Lewiston in 2011.
An Army veteran of World War II, he served in the Asiatic Pacific Theater for four years. Mr. DeMoulpied retired from Fiorelli's Furniture Co. in Old Saybrook, Conn., in 1982, after 20 years as warehouse manager.
He leaves two stepsons, Daniel H. Case of Olathe, Kan., and Peter W. Case of Monmouth; two stepdaughters, Judith A. Brightman of Bellingham, Wash., and Patricia J. Case of Washington, D.C.; his brother, Donald E. DeMoulpied of Wethersfield, Conn.; his sister, Dale D. Bacon of Cromwell, Conn.; Mr. DeMoulpied also leaves nieces and nephews; nine stepgrandchildren; and several stepgreat-grandchildren.
At Mr. DeMoulpied's request, there will be no calling hours, funeral or memorial service. In lieu of flowers, memorial donations may be made to the Warren Public Library, P.O. Box 937, Warren, MA 01083.