« Obituaries | Henry T. Dawley Sr.
Henry T. Dawley Sr.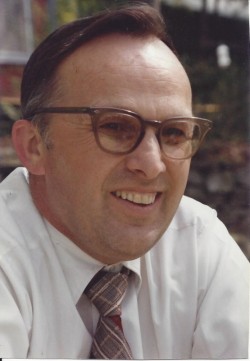 Date of Death: July 3, 2014
Date of Birth: August 4, 1957
Biography:
AUBURN-Henry T. Dawley Sr.,  76, of Gray, died on Thursday, July 3rd, following a long illness with his family by his side. He was born on August 4th, 1937 in Biddeford, ME the son of the late Edward and Bessie (Anderson) Dawley.
He attended Saco Schools and graduated from Thornton Academy, class of 1957. During high school he joined the Army National Guard, leaving with the rank of Sgt. He then attended one year at SMVTI (now SMCC). From there he went to work at Bancroft and Martin Steel Co. as a Reinforcing Steel Detailer. He became reinforcing steel foreman in 1963, production control manager for reinforcing steel in 1964, and in 1969 he became manager of the whole Fore River Plant responsible for budgeting, scheduling, and production management for reinforcing steel, culvert pipe, and full service warehouse operations. After 25 years he left and formed his own realty company, D&M Realty and Eureka Affordable Homes. Henry was a past owner of a deli with his friend Donald Minster. He missed the drafting part of his life so he worked out of his home as a reinforcing steel detailer again for many years with MacFarland Steel Co. (now Harmac Steel) in Fryeburg, Me. At the age of 72, his health worsened to the point where he could no longer climb the stairs to his office. That was one of the worst days of his life; having to face his illness head on. Henry was never one to sit idle. He served on the Gray Town Council for a few years, and was involved with the Windham Kiwanis Club, serving two terms as president.
In his younger days, he enjoyed hunting and fishing, which he taught his two boys. They shared many good times doing just that. When we went camping it was always nearby a good fishing river! He was so proud of both his boys.
On April 21st, 1962, he married M. Kathryn Steele. He claimed his marriage was made in heaven because from day one they put God first. They celebrated over 52 very happy years together.
Henry's faith meant everything to him. He was a member of Highland Cliff Advent Christian Church, and was always serving with a cheerful heart. He served as an Elder, Deacon, Sunday School Teacher, Treasurer, and with teen groups.
His last big hurrah was in 2004 when he and Kay took a trip out west to see all the states west of the Mississippee River. He enjoyed it very much but decided that Maine was best of all because that's where his kids and grandkids were. He had two very special grandchildren, Aaron and Ashley, both of whom he was very proud of, and they were such a great joy to him.
Besides his wife, he leaves his two sons, H. Thomas Jr. and his partner, Patricia Henry, and R. Scott Dawley and his wife Stacey; a sister Donna Simborski and husband Tony of VA; and a sister-in-law Jo Steele of Casco. He also leaves his special grandchildren Aaron and Ashley Dawley (they were his only grandkids); his nephews; nieces; and many cousins.
Henry was predeceased by his parents; a sister, Joyce Clogston; and a brother, Roger.
Special thanks to his daughter-in-law, Stacey, for the very tender, loving nursing care she gave him over the last few years. Also, all the girls on the 4th floor, blood disorders, at St. Mary's Regional Medical Center in Lewiston, Mary and Dr. Pickus at MCHC in Westbrook, Hospice House nurses in Auburn, and last but certainly not least, Dr. Milhouser at St. Mary's for the thoughtful and loving advice he gave Kay for Henry's last moments.
As per Henry's request, there will be no funeral.  For anyone who would like to do something in his memory, do something nice for a stranger in need.