« Obituaries | Nancy Davison
Nancy Davison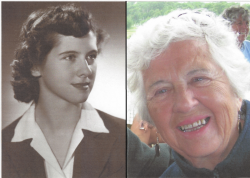 Date of Death: December 8, 2016
Date of Birth: August 20, 1925
Biography:
Nancy C. Davison, 91, passed away on December 8, 2016 at Sedgewood Commons in Falmouth, ME after a long period of declining health and dementia. Nancy was born in Salem, MA, August 20, 1925 the daughter of Malcolm and Mollie Cox of Round Pond Harbor, ME. She was a well-liked student at Salem schools through high school. After graduation, she continued a 2-year program at the Fay Secretarial School in Boston.
    Nancy met Elmer J. Davison from Brooklyn, NY in Round Pond as both families summered there. A courtship led them to marriage on May 6, 1945 after Lt. JG Davison, "E.J" returned from military duty where he served as flight navigator in the U.S. Navy during WW II. The young couple built their first house in Hamilton, MA and started a family with three daughters. Living in rural Maine had been a dream for them so E.J. secured an engineering job at Scott Paper in Winslow, ME. They bought a vintage home in East Vassalboro, ME in 1955, the same year their fourth child Jeffrey was born. During E.J's working hours, Nancy was the primary caretaker for raising their four children. She was active in the community as a Girl Scout leader, in the PTA, in local Grange activities, and more. She enjoyed all kinds of music, Frank Sinatra and Tony Bennett being her favorites. Nancy played the piano and accordion, also encouraging her children to play. Because she was a great cook/host, the Davison home was often a hub of activity with neighborhood children gathered around the kitchen table for cookies or meals while Nancy listened to their problems and triumphs, creating memorable times and lasting friendships.
   Throughout the seventies and into the eighties Nancy worked as a medical insurance secretary at Colby College in Waterville. She and E.J. had always spent summers in Round Pond Harbor and built a retirement home by the sea in 1985 at the location of the old Davison cottage. Nancy loved gardening and added beautiful flowers and shrubs to the landscape. She also became a long-term member of the volunteer group, "Helping Hands" and continued part time work in the field of health Insurance.
   Nancy was predeceased by her husband of 56 years, her sister Katherine Richardson, and her parents. She is survived by her children, Marcia Davison of South Portland, ME, Amy Davison of South Portland, ME and son Zane B. Whitesell of Bristol, ME, Cathy G. Davison of Bremen, ME, Jeffrey B. Davison and wife Diane of Portland, ME.
   A service will be held at the New Harbor Methodist     Church on Sunday, December 18th, 2016 at 2 pm, reception following. In lieu of flowers, donations may be made to the Alzheimer's Association or the Heart Association in the name of Nancy C. Davison.