« Obituaries | Marilyn Ruth Davis
Marilyn Ruth Davis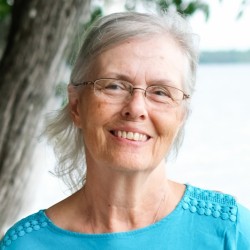 Date of Death: January 9, 2023
Date of Birth: April 10, 1945
Biography:
Marilyn Ruth Davis, née Joyce, of Turner,  graduated to Heaven on January 9th at Androscoggin Home Hospice surrounded by her family.   You could define Marilyn's life by her love of her family. And everyone she met was family -if she liked you, she would search Ancestry.Com until she found a connection. Her 'inner circle' of 37 loved ones included her five free-range children: Isaiah, Jeremiah, Jennifer, Fred, and Laura. Aside from being the most fiercely loving mother ever, she imbued her children with qualities such as devotion, perseverance, loyalty, frugality, appreciation of natural beauty, love of babies, compassion for all, firm political convictions, andstrong faith in Jesus Christ.

Marilyn met the love of her life and her partner in many adventures, Fred Davis, Sr., when she was only 14 years old. Freddy and Mimi were married for 54 years, and nobody took the vows of 'in sickness and in health, for richer, for poorer' more literally than they did. After many years of shared Popham trips, laughter, and fireworks, things got more serious when Fred was diagnosed with Altzheimer's disease. Marilyn provided her children and grandchildren with the perfect example of love and commitment as she cared for Fred in their home until his death in 2017.

Marilyn had a 34 year career at St. Mary's Emergency Room. It was so satisfying to her when she could console a patient or family, keep the chaos at bay, provide assistance to the medical staff, and enjoy the camaraderie of the lifelong friendships she formed with everyone there. She started as a simple clerk, but by the end of her tenure, she was proud to have served on the redesign committee, and was tickled to be able to advise the hospital architects and executives on the most efficient, effective, and attractive emergency room possible. Although Marilyn retired 13 years ago, her many, many, many handwritten notes are still referred to by the ER staff as an unofficial workplace manual.

Her official career was in medical services, but Marilyn also thrived as an amateur gardener, seamstress, historian/genealogist, ornithologist, debater, wedding planner, architect, floral designer, chef, caregiver, and artist,  She was a die hard fan of both the Boston Red Sox and Buzz Media.  Her enthusiasm greatly outpaced her skill when it came to singing in church, but we will still miss the sound of her lack of rhythm. Marilyn attended the Bowdoinham Church of the Nazarene, where her dad had been the pastor, since she was three years old. Her faith defined her life, and she gave many hours in recent years as a board member and treasurer. Being a master craftsperson, Marilyn created hundreds of ornaments and decorations for the church's celebration of Victorian Christmas. Her favorite bible verse was Proverbs 3:5, "Trust in the Lord with all your heart and lean not on your own understanding."

Her family was devastated when Marilyn suffered a brain aneurysm last October. There was still a lot of hope as she had recovered from cataclysmic injury before. After a benign spinal tumor in her late 20s left her paralyzed, she ended up climbing Mt. Katahdin within a year. She was tough, stubborn, and determined, and that allowed her to survive her stroke for an additional three months. Her family would like to thank all the health professionals who helped her through this last journey: Turner Rescue, CMMC ER, Lifeflight, Me Med (especially the amazing Neuro unit staff), New England Rehabilitation Hospital, Russell Park Manor, St. Mary's ER, and finally, the dedicated and compassionate staff at Androscoggin Home Hospice

Marilyn is survived by her adored children, as well as much loved sons and daughters-in-law Peter, Michael, and Karen; grandchildren Calvin, Mariah, Amy, Toby, Sarah, Tony, Cheyenne, Kyle, Jacob, Bowie, Jonah, Haid, Caleb, Isabella, Marla, Jonny, and Elijah and great-grandchildren Lacey, Theodore, Henry, Aviana, Lucille, Delilah, and Rose. She also leaves behind her brothers Richard and his wife Judy, and Dan and his wife Kathy, and her sister Carolyn and her husband Wayne. She was predeceased by her brother John, her parents Reverend Harland Joyce and Doris Joyce.

Visiting hours will be held at Funeral Alternatives, 25 Tampa Street, in Lewiston on Friday January 13th from 3:30-5:30. A Christian Celebration of Life will be held on Saturday, January 14 at the Bowdoinham Church of the Nazarene, 7 School St, Bowdoinham, ME at 2pm with a reception to follow.

Marilyn would be so honored if people made a donation in her name to fix the steeple on the historic Bowdoinham Church of the Nazarene, 7 School St, Bowdoinham, ME 04008