« Obituaries | Frederick M. Davis Sr.
Frederick M. Davis Sr.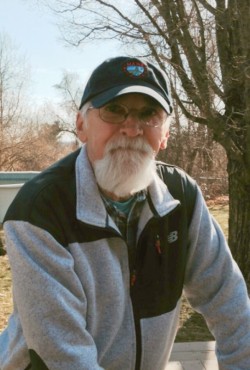 Date of Death: September 1, 2017
Date of Birth: August 3, 1943
Biography:
Frederick Marshall Davis, Sr. of Turner, Maine, passed away on September 1, 2017 in his home surrounded by loved ones after a long illness that took his life but never dampened his spirit. The name 'Fred Davis' is familiar to many people because he was an avid hunter and fisherman, a local businessman, an organic gardener and founding member of MOFGA, a sage, a story-teller, an athlete, occasional pool shark, and the self-proclaimed "Worm King". Beyond all accomplishments, he measured his true wealth in his 53-year marriage to his wife, Marilyn, and their family of five children, thirteen grandchildren and five great-grandchildren.
Fred was born on August 3, 1943, and although he was born and raised in Lewiston-Auburn, his continuous quest for the perfect native brook trout drew him to Turner again and again. In 1970, he was able to finally come home when he and his wife Marilyn built a house here for themselves and their five ragamuffins.
Fred started his career in the Navy as a radioman and later became the supervisor at various businesses in the area, such as Pioneer Plastics and Supreme Slipper. He realized that he would find true happiness if he could combine work and pleasure. He was able to fulfill this dream by opening Nezinscot River Sports and spent the next several decades running his business. Who can forget the first time they caught a big one with one of Fred's Finest!
He shared his love and knowledge of nature during the decade when he ran Nezinscot River Sports in Turner Village at the Hearth & Cricket.  When teaching people to fly-fish next to his bait and tackle shop, he used the opportunity to educate everyone about the importance of protecting our resources. During fireworks prohibition, Fourth of July party favors allegedly could be purchased from the back room of a certain bait dealer, but this was never proven.
His love of the outdoors and high-energy personality found him engaging in such diverse activities as hunting deer, ducks, and raccoons, fly-fishing his beloved Rapid River, planting epically large gardens (which his children had to weed), panning for gold, tying flies including the infamous 'Fred's Mutant', camping, hiking Mount Katahdin, and exploring nature in every possible way. Fred chronicled his adventures in his newspaper column, "Fisherman's Corner" in the Country Courier.
Fred was a polymath who knew something about almost everything. He was a voracious reader, author, and poet and although his love of music didn't extend to playing an instrument, he was a mean whistler. Nobody would call him a good mechanic.
Known as the Turner Terror, he was an original member of the Industrial Ice Hockey League of Lewiston, where his speed and intensity was notorious throughout the area. His athletic prowess also extended to bowling, cliff diving, softball, and ski jumping. His intensely competitive spirit made him a fierce opponent, whether it was as a pitcher on the mound or playing Crazy Eights with his kids.
Fred was noted for his positivity and eagerness to cheer others on during their struggles. No matter what, he never lost his optimism, sense of humor, or love of life.  As Fred recently said, "In my opinion, life is grand!" If you ever talked to Fred, you know that he was an excellent listener (especially to kids), and he could spin a yarn that would leave his audience captivated.   Almost every day of his life, he expanded his gigantic collection of friends, which included many treasured dogs.
Fred leaves behind his cherished wife Marilyn, who shared his life, love, and values; his daughter Laura, who shared his natural leadership ability and love of people; son Fred, who shared his passion for the outdoors; daughter Jennifer, who shared his love of books and knowledge; son Jeremiah, who shared his incredible compassion and empathy for others; and son Isaiah, who shared his love for teaching and his dad's competitive spirit. His family also includes much loved sons and daughters-in-law Peter, Michael, Karen, Vivian; grandchildren Calvin, Mariah, Amy, Toby, Sarah, Tony, Jacob, Isabella, Cheyenne, Kyle, Jonah, Caleb, Elijah, Haid, Marla, Erica, Jonny and great-grandchildren Lacey, Theo, Henry, Aviana, and Lucille, all of whom share his zest for life, contagious enthusiasm, and sarcastic sense of humor. Fred leaves his brother Norton Davis, Jr. and his wife, Jan; sister Barbara Davis Richards and her husband Hoy; brother James and his wife, Jill; brother Scott and his wife, Angela; sister Cindy; and foster brothers Sheldon and John as well as many loved nieces and nephews. He is predeceased by his adored grandmother, Effie Johnson; father, Norton Davis, Sr.; mother, Emma Paquette Davis; sister, Gloria and his brother, Richard. Fred also leaves his Labrador Retriever and faithful companion, Miss Cady, who worked very hard to support him to the end.
To our incredible family, who walked every step with their father and grandfather on his journey for the last three years. The time they spent with him, the talks on the phone with him and the compassion, gentleness and love they showed him in their care of him to the very end. This was their greatest gift of all to Dad and Grandpa. We couldn't be more proud of all of you. Thank you dear Heavenly Father for the strength you gave us to complete the journey.
We want to thank the wonderful doctors who helped Fred on his journey over many years and got him to the finish line including Dr. Betty Kennedy, Dr. Kenneth Brodsky, Dr. Abhay Singh, Dr. Roy Ulin, Dr. Samuel Broaddus, Dr. Charles Carpenter, and Dr. Eric Dinnerstein. The compassion and care they showed for Fred and all our family was so much appreciated.  
A Christian Celebration of Life will be held on Thursday, September, 7, 2017 at the Turner Village Church, 139 Main Street, Turner, Maine. Visiting hours will be held from 3:30 p.m. to 5:30 p.m. and the Memorial Service will be held at 6:00 p.m. with a reception immediately following. All services will be held at the church.
Donations in Fred's memory may be made to Alzheimer's Association, Maine Chapter
383 US Route One, Suite 2C, Scarborough, Maine 04074, 207.772.0115 or at http://bit.ly/2wzx0Fc. Your gift in Fred's memory will make a difference in the lives of people living with Alzheimer's disease and support research to improve treatment, care and prevention.