« Obituaries | John P Davidson
John P Davidson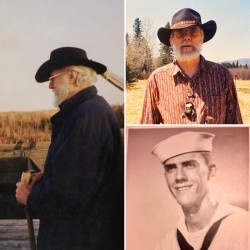 Date of Death: December 10, 2021
Date of Birth: February 23, 1933
Biography:
John P. Davidson, Sr., 88, of Waterville, passed away peacefully with his children by his side at Glenridge Comfort Care in Augusta on December 10th, 2021. 
John was a talented singer who performed at the playhouse in Chautauqua, NY during his High School summer breaks. John also had a love of mechanics and aviation that was carried throughout his life.

John served in the US Navy during the Korean War as an Aviation Structural Mechanic (AM-3CL). After serving in the Navy, he worked on the Polaris Missile project at Lockheed. He then pursued a career as a mechanic repairing boat engines and maintaining cars at Greene's Garage in Kennebunk, ME. Before retirement, he worked at Fairchild in South Portland, Maine as a Manager and technician in the semi-conductor industry. Later in life, John earned his Associate in Information Technology at Macintosh College.    

John was an avid BMW motorcyclist and achieved the 200,000 mile award from the BMW Owner's Motorcycle Association while touring the United States and Canada. His fondest memories of touring were of his trip to the Colorado Plains where he learned much about the Native Americans that lived there. He also had a passion for designing planes and virtually test flying them.

John is fondly remembered by his neighbors for whistling while he worked on his latest project. When he was not out in the yard fixing something or gardening, building a computer, or virtually flying, he enjoyed listening to Opera and Celtic music.

John was predeceased by both parents, John Davidson and Ethel O. Davidson; his son Karl G. Davidson; his grandchildren: Sebastian K. Davidson and Gillian N. Milheron.
Surviving him are his domestic partner, Martha Priest (Waterville); the mother of his children, Bettina Lynn-Mulle (Naperville, IL); his son, John and his wife Kathleen Davidson (Sanford, ME),]; his daughter, Elizabeth and her husband Richard Milheron (Aurora, IL); 3 grandchildren, Meghan (Davidson) Duggan, Caitlyn (Milheron) Karl and Shannon Milheron; and four great grandchildren.   

John asked that you celebrate his life by remembering him with joy. Donations may be made to The American Cancer Society or the Leukemia & Lymphoma Society.