« Obituaries | Leo A. Damren
Leo A. Damren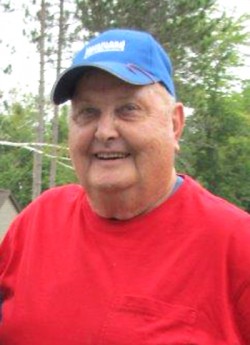 Date of Death: November 24, 2018
Date of Birth: July 11, 1936
Biography:
Leo A. Damren, 82, of Pittston, passed away in the early hours of November 24, 2018 at Maine
General Medical Center in Augusta, with his family at his side. He had succumbed, in accordance with
his wishes, to a long battle with Pulmonary Fibrosis.
He was born in Augusta on July 11, 1936, the son of Guy L. and M. Louise (Wormwood)
Damren. He attended Smith School in Augusta, of which he would often reminisce, and Cony High
School. He spent his fifth-grade year attending school in North Berwick while his father worked for the
railroad in Wells during World War II.
Leo worked at Nash Printing in Augusta for six years beginning at age 16. He then worked for 22
years at the Kennebec Journal where he became foreman of the letter press, offset printing and binding
department. Later he worked as a self-employed carpenter, building many garages, camps, remodels
and additions, as well as two homes of his own. He also worked for nearly 18 years at Hammond
Lumber Company in Belgrade, where he held several positions including yard foreman.
He taught his good friend Butch James the art of home building. Leo worked for many years in
the successful construction business that Butch created.
He was a great story teller and could become friends even with strangers in no time at all. He
enjoyed playing poker with his buddies and bantering with the ladies, both young and old. He was an
avid baseball player in his youth and an enthusiastic hunter. He was a big fan of NASCAR, the Boston
Red Sox, the New England Patriots, and the Ohio State Buckeyes, and he loved horse racing and classic
country music.
Leo was very proud of his children, grandchildren and great-grandchildren. He enjoyed telling
others about their accomplishments and watching their various sporting activities. He loved his dogs as
part of the family, and he passed that sentiment along to all of his offspring.
Leo was predeceased by his first wife, Joan K. (LaVerdiere) Damren in 1971 and by a stepson,
Troy C. Manley in 2011. He is survived by his wife of 32 years, Patricia J. (Barr) Damren of Pittston; by
his son Dana M. Damren and his wife Janet of Augusta; by his daughters Brenda M. (Damren) Baker and
her husband Bill of Augusta, Sheila A. Damren of Columbus, Ohio, and Lorna A. Damren of Portland; by a
stepson, Douglas G. Manley and his wife Teresa of Kelsterbach, Germany; by his grandchildren, Melissa
(Damren) Delehanty, Kristina (Damren) Roderick, Amanda (Rowe) Geneseo, Rebecca (Rowe) Fritz, Jon
Rowe, Justin Rowe, Alexandra Perry, Sean Perry, and Britney Manley; by his great-grandchildren,
Brendan and Giuliana Roderick, Meredith Delehanty, Jacob and Nicholas Geneseo, Matthew and
Kiersten Valles, Lennon Fritz, Archer and Abbey Rowe, Quinn Denis and Braxton Rowe; by his sister
Rosella (Damren) Morrow of Wells and her children John Morrow and Kimberly Morrow Allen; by his
good friend Harold "Butch" James III of Pittston; by many close and loving cousins; and by his beloved
dog Jag.
At Leo's request, there will be no funeral service. A private family burial will take place next
year. In lieu of flowers, donations may be made in Leo's memory to the Kennebec Valley Humane
Society, 10 Pet Haven Lane, Augusta, Maine 04330.