« Obituaries | Agnes B. Dailey
Agnes B. Dailey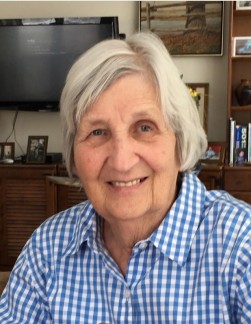 Date of Death: November 21, 2018
Date of Birth: August 5, 1935
Biography:
BRUNSWICK - Agnes Beverage Dailey, 83, of Brunswick, passed away on Wednesday, November 21, at Mid Coast Hospital. She was born in Rockland, Maine on August 5, 1935, to parents Agnes Tait Beverage and George Dewey Beverage of North Haven Island.
She taught at elementary and junior high schools in Connecticut, Washington and California, as the wife and partner of a naval officer in her early adult life.
Agnes was predeceased by her husband of nearly 61 years, Edward G. Dailey, Jr., whom she lost last June. She is survived by daughter Catherine; sons Gerard, Paul and John; grandchildren Joseph, Danielle and Isaac and her brother, George.
In addition to her family, teaching and learning were her two great joys in life, as all who had the pleasure of knowing her would confirm.
Mrs. Dailey taught Language Arts at the Brunswick Junior High School, where she took great pride in her profession as a devoted and caring educator of the community's "young people." In addition to teaching, she enjoyed numerous opportunities to pursue advanced summer studies at many institutions of higher education both at home and abroad including Oxford, Cambridge, Edinburgh and Trinity Universities. She was passionate about lifelong learning and ardent in her belief that a quality education should be accessible to all who desired it.
A woman of letters, she earned a B.A. in government from Bates College. Years later, she went on to earn two advanced degrees from the University of Southern Maine. Through her chosen profession, she forged many enduring friendships, often with educators like herself, with whom she shared mutual and lifelong interests in all facets of the creative arts.
A Memorial Service will be held on Friday, December 7, from 12:30-1:30 pm at the Unitarian Universalist Church of Brunswick. A reception at the Curtis Memorial Library's Morrell Meeting Room, directly opposite the church, will immediately follow.
In lieu of flowers, please make a Memorial Gift to the Curtis Memorial Library, or the Waterman's Community Center.