« Obituaries | Alice M. Daigneault
Alice M. Daigneault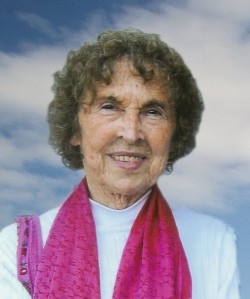 Date of Death: July 28, 2014
Date of Birth: August 17, 1928
Biography:
Alice M. Daigneault, 85, native of Lewiston, died peacefully on July 28 at the Homestead in Owls Head. Born August 17, 1928, she was the daughter of Joseph and Marie Louise Lemay.
 In 1948 Alice married Roland Daigneault and they shared 64 years together and raised two sons.  To provide for their care, Roland worked first shift and Alice the second shift from 3-11pm which she loved.   She was known as a night owl to her last days. Dancing, cards, travelling and family parties were activities the couple enjoyed together and the pair, often with Alice in a colorful costume, were often seen as the life of the party.
All but the last two years of their marriage were lived in their ranch home on Summit Avenue in Lewiston.  Alice joined the workforce early to contribute to the purchase of their home and she took great pride in it being immaculately kept, both inside and out.
In 2011 the couple moved to The Homestead in Owls Head where they lived together until Roland's passing in May, 2013.
 Alice worked at the Bates Mill (Hill Division) in the Spinning Department for over forty years until its closure in the 1970s. Her efforts helped to produce the famous Bates Bedspreads. Later she joined the Housekeeping staff at Bates College where she single handedly cleaned the four story administration building from1982-1998.  She enjoyed after hours chats with the college presidents and various administrators who were working late until her retirement at age 70.
Memere, as she was called, loved doting on her five grandchildren.  Making them crepes, dressing up as Mrs. Clause at Christmas and even taking one curious grandson on a ride on the city bus are a few of the special memories that will be remembered.  She loved the sun and beach and spent many summer days around the pool with the grandchildren working on her great tan. Beano with her sisters, family parties and weekly visits to the family camp were other sources of great pleasure to Alice.
A savvy shopper, Alice loved bargain hunting at lawn sales and turning her finds into a profit.  In her later years she bought a van which she filled with treasures and drove to flea markets. 
Alice is survived by her sister Candide Lemay of Winthrop, two sons, Dan and his wife Carol of Rockport, David and wife Joann of Lewiston, one granddaughter Fayth of Lewiston, and four grandsons Adam of Auckland, New Zealand, Evan of Portland, Oregon, Travis and Caleb both of Lewiston.
 In addition to her husband Roland , Alice is pre-deceased by parents Joseph and Marie Lemay, brothers Leo and Michel Lemay and sisters Therese Wing and Cecile Gagnon.
A committal service will be held at 2pm on August 18, at St. Peters Cemetery Mausoleum in Lewiston, Maine. Attendees are invited to join the family afterwards at DaVinci's Restaurant in Lewiston for a celebratory meal.