« Obituaries | Anna "Lucy" Cyr
Anna "Lucy" Cyr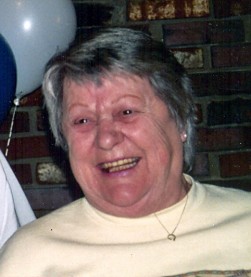 Date of Death: April 17, 2012
Date of Birth: February 3, 1934
Biography:
AUBURN- Anna "Lucy" Cyr, 78, of Mechanic Falls, passed away peacefully on April 17th, 2012.
She was born February 3rd, 1934 in Lewiston, the daughter of Pierre and Anna (Talon) Roy.
Lucy volunteered at the Vineyard Church Foodbank in Mechanic Falls and attended the Vineyard Bible Study program. She enjoyed the beauty of flowers, reading books, cooking and spending time with her family and grandchildren at family get-togethers. She really just enjoyed life.
She worked at various insurance companies, and owned and operated a luncheonette in Hartford, CT.
Lucy was predeceased by her parents; four sisters, Rose, Theresa, Noella and Helen; two brothers Bob and Pete; and a daughter Diane Linda Lavoie.
She is survived by her husband Kenneth Cyr, three sons, Ray, John and Guy Lavoie; two sisters, Anita and Yvette; a brother, Joseph; and 10 grandchildren.
A gathering for close family and friends will be held Friday April 27th, 11am at the Vineyard Church, 90 Lewiston St, Mechanic Falls, ME 04256. In lieu of flowers, donations may be made to the Vineyard Foodbank, care of the Vineyard Church.