« Obituaries | Anna Mary-Snell Curtis
Anna Mary-Snell Curtis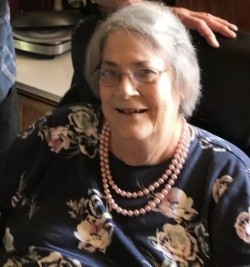 Date of Death: October 12, 2022
Date of Birth: November 3, 1944
Biography:
Anna Mary Snell Curtis, 77 of Fayette, ME passed away on October 12th, 2022  at the Oak Grove Nursing and rehabilitation center in Waterville ME.  She passed from a broken heart after losing her husband. Walter James Curtis,  of 61 years, 3 weeks prior .  She was surrounded by family in her final days and passed peacefully. 
She leaves behind her daughters Wendy Morgan and her husband Mike Morgan of Fayette, ME, Rebecca J Cote and her husband Jeff Cote of Auburn,ME, brother Jere R. Snell and his wife Sharon Snell of Raleigh North Carolina. She was predeceased by her husband , Walter James Curtis, her Son Walter James Curtis II, her parents, Burrell D.,"Red" Snell  , Katherine Holmes Snell, brother Stephen H. Snell and niece Jennifer Snell.
She leaves behind   her Grandchildren CJ Perry and his wife Katherine Perry, their children Nora and Evan Perry of Skowhegan, Katherine Gilliland and her children Haydyn Stymiest and Malcom Gilliland of Fairfield, Peter Caramihalis of Portland and his daughter Theresa ( Tessa) Studley of Lebanon, ME, Amy Caramihalis of York, Me Skylar Curtis, her partner Andrew Nelson and her children Riley Curboy, Cole (Duke) Goldman and Elora Goldman all of Fayette and Walter James Curtis III and his partner Louanna Masse of Neptune Florida, along with several nieces and nephews. Anna was brought up in Hallowell, ME. She went to Hall-Dale high school where she met the love of her life and husband of 61 years, Walter James Curtis.  Together they graduated in 1965. They married in 1961 but continued their schooling while raising the first two of their 3 children. She was a  determined young mother as well as loyal, and supportive of her husband while he went on to CMVTI and continued to work to support his young family.  She was a homemaker, and mother who enjoyed raising their farm animals, gardening, canning, cooking and the outdoors. In 1977 her husband went to the Maine State Police academy. This new career brought them to Northern Maine where he patrolled. She enjoyed riding with him whenever possible and loved their new community. As her children grew older she had different part time jobs to help out and keep her busy but decided to continue her own  education when she and her husband transferred back to Southern Maine.
She received her associates degree in business in 1991 from KVCC giving her the opportunity to also work for the State of Maine, where she retired from the Vital Records division of DHHS in Augusta , in 2012.
She loved her forever home she and her husband purchased in 1993. A beautiful farmhouse with a priceless view and plenty of room for animals, gardens and family. She again was able to live the life that made her the happiest. She also loved genealogy, a love she learned from her mother. Over the years she began to help others find their roots. She was loved by many and will be deeply missed and always cherished through the memories she made for her family, grandchildren and great grandchildren as well as friends from all over.  The family would like to thank Oak Grove Nursing and rehabilitation Center in Waterville, Maine and Beacon Hospice Care for the amazing care and kindness they gave her. As she requested, there will be a small private ceremony with close family and friends at the Maple Wood Cemetery in Fairfield, Maine beside her husband Walter James Curtis on November 4th.