« Obituaries | Joseph W. Croteau
Joseph W. Croteau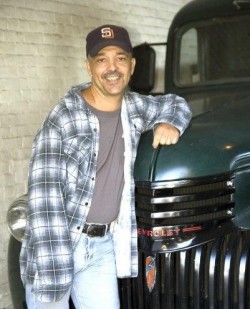 Date of Death: November 2, 2011
Date of Birth: March 8, 1961
Biography:
SAN DIEGO, CA-Joseph W. Croteau Jr., 50, 0f San Diego CA, passed away on November 2nd, 2011 at his home of a heart attack.
He was born March 8th, 1961 to parents Isabelle and Joseph Croteau Sr.
Joseph attended First Assembly of God Church in Lewiston, ME, participated in community service for the homeless youth of San Diego, and enjoyed teaching sign language to the deaf.
He also enjoyed singing, playing many instruments, watching the polar bears at the San Diego Zoo, and playing catch with his dog, Molly.
Joseph was the owner and operator of Carmela's Restaurant in Bethel, and also owned and operated a healthcare management service.
He was predeceased by his father, Joseph W. Croteau Sr., and also his sister, Caroline Knight.
Joseph is survived by his mother, Isabelle Croteau of Otisfield; his wife, Carmela Croteau of Harvard, NY; two daughters, Charity Croteau of Auburn, Me, Aimee Dubois of Limerick, ME; three grandchildren, MacKenzie Croteau, Kaitlyn St. Amand, and Caiden Joseph Croteau; three brothers, Allen Croteau of Hebron, Me, David Croteau of Utah, and John Croteau of San Diego; one sister, Emily Hufschmidt of New Mexico and also his long time friend, Don Cherkis.
A Celebration of Life will be from  5:00 to 6:30pm, Nov. 22nd at the First Assembly of God Church, 70 Hogan Road, Lewiston, Me. The celebration will be followed by a potluck dinner from 6:30 to 8:00pm. In lieu of flowers, donations may be made in Joseph's memory to the National Association for the Deaf, www.nad.org/donate.