« Obituaries | George Thomas Croston
George Thomas Croston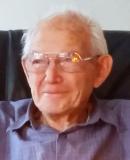 Date of Death: June 24, 2017
Date of Birth: March 13, 1927
Biography:
BRUNSWICK - George Thomas Croston, 90, of Brunswick passed away June 24th after a full and satisfying life. The youngest child of Oscar William and Delia (Tripp) Clemons' 7 children, George was orphaned shortly after birth and relocated from Bartlett, NH to Topsham where he was adopted and raised by his aunt Ruth and her husband Albert Croston. He attended Brunswick High School until he was old enough to enlist in the Navy and proudly served his country as a Seabee stationed in Guam during WWII. He married Helen Louise Peabody in 1947. They enjoyed 64 years together.
George was master electrician and worked for Brunswick Naval Air Station, BIW and for his own business, Croston Electric Service. He built his much-loved home on Pleasant Hill Road from the ground up and was a gifted tinkerer who could repair just about anything. He loved snowmobiling with Helen, hunting with his sons, swimming in "the big pond," camping, reading history books, fishing at Horseshoe Pond, nanny's homemade ice cream, and eating only the very freshest corn. He was a lifelong Democrat and enthusiastically told (and retold!) the story of riding with JFK in a helicopter in 1963.
George was also a prankster. From scaring his kids with his famous 'ape face' to appearing at the bus stop wearing a curly wig with hopes of embarrassing his grandchildren, we were never completely sure. His Pleasant Hill boat rides were memorable as he carefully loaded his aging relatives into a trailered boat, towing them all over the "farm" by tractor.
George is survived by his five children: Jane, Albert, George II (Tom), Timothy and Patricia, six grandchildren: Matthew, Shana, Elizabeth, Hilary, Sarah and Jacob and two great grandchildren Benjamin and Perri.
George has been at reunited with his beloved Helen, 90 years after first meeting her in a playpen in Topsham.
His family will hold a quiet tribute to 'papa' complete with cannon blast.