« Obituaries | Richard C. Cronkhite
Richard C. Cronkhite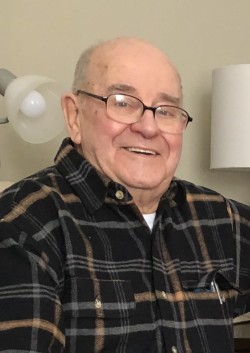 Date of Death: April 28, 2023
Date of Birth: April 22, 1940
Biography:
Richard C. Cronkhite of Lewiston passed peacefully on April 28, 2023. Richard was born April 22, 1940 in Lewiston, ME to Gabrielle and Roland Cronkhite. He was the second oldest of four brothers. He attended Lewiston High School and joined the US Air Force after graduation, proudly serving from
September of 1959 to October of 1963. Upon discharge from the Air Force, he lived and worked in
Nashua, NH before returning to Maine where he worked for Twin City Printing and Penmor Lithographers. He then became a company partner of Spectrum Printing and Graphics.
Richard was a loving husband and father to his wife Rachelle and their 3 children. They would be
celebrating their 60th wedding anniversary on June 27th.
Richard enjoyed wood-working and gardening. His greatest passion was his devotion and love to
his grandchildren whom he spoke of with great pride.
He is survived by his wife, Rachelle Cronkhite; his 3 children Caroline Mezoian and husband
Michael, Anne Marie Byrne and husband Thomas, Scott Cronkhite and wife Amy. He will be forever
missed by his grandchildren Jordan Wielgoszinski, Taylor Mezoian, Marley and Emma Byrne, Ashley and Gavin Cronkhite, as well as his great granddaughter Everly Wielgoszinski.
Richard will be missed by his family, brothers, in-laws and friends. The family wishes to thank those who have offered their love and prayers throughout Richard's life and recent battle with cancer. A memorial service will be held at Funeral Alternatives 25 Tampa St. Lewiston, Me on Thursday, May 4th, 2023. A memorial gathering will be held from 2-3:30pm with military honors and sharing of memories at 3:30pm.