« Obituaries | Mary Hazel Crockett
Mary Hazel Crockett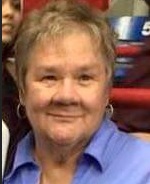 Date of Death: July 1, 2022
Date of Birth: December 1, 1946
Biography:
Mary Hazel Crockett, 75, of Auburn, gained her angel wings on July 1, 2022, at Russell Park Living Center in Lewiston with her children by her side.
Mary was born on December 1, 1946, in Farmington, Maine, daughter of the late Mary (Gordon) and Clarence Nichols.

Mary moved to Lewiston when she was just nine years old where she attended Lewiston schools. She worked as a teller from 1987 to 2011 at Rainbow Federal Credit Union where she made lifelong friends with many of her co-workers.
Mary loved spending time with her family, she also enjoyed traveling, going out to eat, playing board games, reading and caring for her cat, Daisy.
With a smile on her face and a twinkle in her eye she sure loved to laugh and make jokes. Anyone who knew Mary, knew she was a kind, loving and gentle soul. Her love for life, adventure and sense of humor will be greatly missed.
Mary is survived by her children: Patricia (Kevin) White of Sabattus, Charles (Cynthia) Winslow of Lewiston and Mary Sue Crockett of Greene. Her grandchildren: Ashley (John) Cabral, Amber Turcotte, Jon-Derek Turcotte, Jazmine Leate and Zackery Williams. Her great grandchildren Jordan, Ava-Marie and John Cabral.

Graveside service will be for family and close friends. It will be held at Gracelawn Memorial Park, Turner Street, Auburn. Service is on July 27, 2022, at 11:00 AM

The family respectfully request no flowers. Please help fund research by making a donation to the ALS Association.
https://www.als.org/donate