« Obituaries | Leroy E. Cox
Leroy E. Cox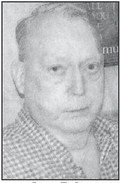 Date of Death: November 4, 2014
Date of Birth: December 6, 1931
Biography:
Leroy E. Cox, 82, of Woodstock, died on Nov. 4, 2014, at the Maine Veterans Home.
He was born in Woodstock on Dec. 6, 1931, the son of John and Jennie Cox.
He joined the Army in October, 1952, during the Korean War and was stationed in Germany doing artillery work, and in September, 1954, was discharged. Mr. Cox received the Army of Occupation medal and the Germany National Defense service medal. He achieved the rank E3.
After the service, he worked at Penley's Mill in West Paris, B.M. Canning in Cherryville raking blueberries, and AL Stewarts canning company as a foreman. When he retired he worked at the Greenwood transfer station.
Roy enjoyed spending time with family and friends. He remembered taking road trips with his nieces and nephews to Santa's Village, Storyland, and up Mt. Washington in the back of the truck. He also traveled to Mooreshead in Greenville with family and friends. He loved animals, enjoyed going out to eat, loved to go camping, playing cards, Beano and watching 'The Price Is Right.' He was a member of the Jackson Silver Post 68 in Locke Mills.
He was predeceased by his parents, brothers Donald, Wesley, Merle, Francis and Johnny and sisters Nettie, Eleanor, and Sylvia. He is survived by his sisters Edith, Irene, and Susan. Funeral services will be held at 1pm on Sunday, Nov. 23, at the North Turner Union Presbytarian Church on 58 Howes Corner Rd. in Turner. Interment will be at a later date in Woodstock. Memorial donations in his name may be sent to the North Turner Union Presbytarian Church, PO Box 541, Turner, Maine 04282.
Condolences may be expressed at funeralalternatives.net