« Obituaries | Jean Alice Cox
Jean Alice Cox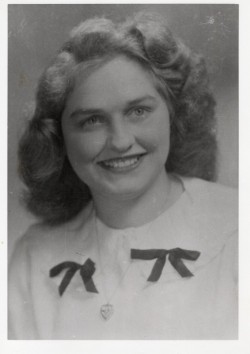 Date of Death: March 9, 2023
Date of Birth: November 30, 1930
Biography:
AUBURN - Jean Alice Cox, 92, born Grace Alice Rideout, passed on Thursday March 9th, 2023 at Clover Health Care in Auburn.
She was born to Walter and Edna (Wallace) Rideout on November 30th, 1930 in Lisbon Falls and was the fourth of ten siblings.
She was married to Charles Cox Sr. on May 9th, 1953 in Bristol, Connecticut.  He predeceased her on February 26th, 1984.  They spent several years moving around for his work before settling down in Auburn where they built a home and raised their family.
Jean spent most of her childhood in Livermore Falls where she was a competitor on the high school ski team and an active participant in the Tantamaheag Girls 4-H club.  She was both an avid gardener and indoor plant
enthusiast.  Always busy, she also enjoyed puzzles, watching NASCAR races, reading romance books, hunting and fishing, card and table games, classic country music, and spending time with family.  Jean was also a member of the American Legion Post 150 of Mechanic Falls.  She also liked to travel, visiting much of eastern Canada and the U.S., and in her later years attended several races with her daughter Sheila and son-in-law Tony.
In addition to her parents and husband, Jean was predeceased by her daughter, Sheila White in 2017; four brothers, Doneth, Cleveland, Dawn and Kenneth; and three sisters, Fannie Edgerton, Evelyn Leavitt, and Marion Rideout-Twist.
Survivors include her children, Cindy Rines and her partner Thomas Bone, Charles Cox Jr, and Valerie Terenzoni; grandchildren Howard Washburn III, Ashley Rines, Matthew Terezoni, Liza Cohen-Campbell and her husband Heath, and Charlee Cox; great grandson Howard Washburn IV; brother Gerald Rideout; sister Valda Flores; and sons-in-law Timothy Rines, Anthony White, and Mark Terezoni.
The family would like to thank the staff at Clover Health Care, particularly those in Clare Place, for their dedicated care and support, as well as the hospice providers from Androscoggin Healthcare.
Per her request, there will be no services.  Private interment will be at Flagstaff Cemetery in Eustis, Maine.