« Obituaries | Margaret Lenti Cousins
Margaret Lenti Cousins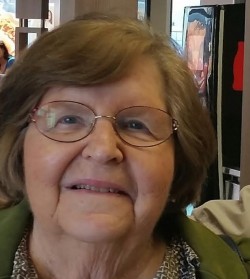 Date of Death: April 6, 2017
Date of Birth: May 30, 1930
Biography:
PORTLAND - Margaret Lenti Cousins, 86, passed away on April 6, 2017. She was born May 30, 1930, to David and Sofia Benvenuti Lenti. The youngest of eight children born into a loving Italian family, she was proud of her Italian heritage. Her father founded a fine apparel and shoe store, Lenti's, in Southbridge, MA.
Margi had a close-knit band of girlfriends in high school. At one of their many weekend gatherings, the 7 of them decided to cut their hair into "bangs", before bangs became the rage. The group became known as the "Bang Gang" and remained life-long friends. She graduated in 1948 from Mary E. Wells H.S. In the fall of 1948, she headed off by train to Westbrook Junior College, where she fell in love with Maine and with William Cousins, who was studying at Portland Junior College. Many dates were spent dancing at the Old Orchard Pier, bowling and hanging out with friends. Their most favorite time was spent at Higgins Beach visiting with Bill's Uncle and Aunt. Meg (as she became known in Maine) went on to graduate from Boston University. She married Bill on Thanksgiving Day in 1953. Meg's father asked that she marry on a holiday so he wouldn't have to close the store.
Both school teachers, Meg and Bill raised their three children in Bethel, Maine in the winter and at their Higgins Beach cottage "The Spurwink" in the summer. Meg loved living at the cottage from June to September. Meg later received her Masters of Education degree from the University of Maine. She began her teaching career in a three room schoolhouse in Locke Mills, ME, teaching with three wonderful women, Amy Davis, Barbara Ferguson and Norma Salway. She retired in 1993 from Crescent Park School in Bethel. Meg had many friends in Bethel and was known for her humor and generosity; she made a difference in the lives of those she came in contact with. She and her best friend, Barbara Brown, were also known for their parties. A few of her favorites were The Italian Embassy, The Bag Ladies and Women's Rights, where they burned their bras. Meg loved a good glass of red wine and a great card game.
Besides her husband, she was predeceased by her brothers Raymond, Francis, Florenzo and David, her sisters Rafaela Dunn, Sarah Moore and Esther McCann Leopold and her best friend, Barbara Brown. Meg is survived by her three children, Carolyn (Hans-Peter) of Freeport, ME, Marianne of Clearwater, FL and Charles of Scarborough, ME, two grandchildren, Erik Krahn of Mill Valley, CA and Monika Krahn Pfistner (Daniel) of Beverly, MA. She also leaves behind many nieces and nephews.
Honoring her wishes, there will not be a service, but rather a celebration of her life.

In lieu of flowers, please consider making a donation to the Mahoosuc Kids Association of Bethel at www.mahoosuckids.org or 19 Crescent Lane, Bethel, ME 04217. The donations will benefit educational programs that serve the children of MSAD #44.