« Obituaries | Laurie Jean Courtemanche
Laurie Jean Courtemanche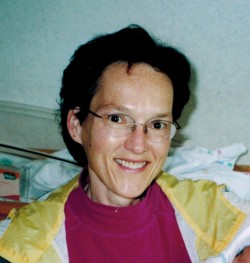 Date of Death: June 25, 2017
Date of Birth: October 23, 1956
Biography:
Laurie Courtemanche 60 of Lewiston passed away unexpectedly on June 25th, 2017. She was born in
Lewiston on October 23rd, 1956.
Laurie was born and raised in Lewiston, Maine and attended Lewiston's public schools. She worked as
a CNA for many years in the Lewiston/Auburn area. Laurie had a kind, generous and beautiful heart,
She lived a quiet life with her adored cat Spritz. Family get-togethers will never be the same without
her. She was a loved daughter and sister. She had a lifelong love of horses and her family would like to
remember her riding them forever; free, fast and as fearless as her heart desires.
She is survived by her mother Nancy Loring Janelle; her father Roland Courtemanche; brothers,
David Courtemanche and his fiance Sandra Turcotte, and Anthony Courtemanche; sisters, Keri
and husband William Robichaud and Amanda Janelle; Nephew Nathaniel Robichaud
and Nieces Olivia and Ella Penley.
Funeral services will be held at Funeral Alternatives, 25 Tampa Street. Lewiston on July 3rd at 11:00 am.
Burial services will be held privately for family at St Peter's Cemetery. In lieu of flowers donations to the
Androscoggin Humane Society, 55 strawberry Ave. Lewiston, Maine would be appreciated.