« Obituaries | Verna A. Cote
Verna A. Cote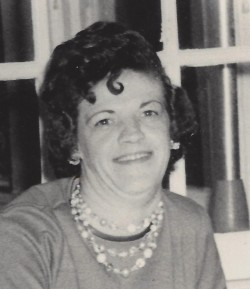 Date of Death: November 9, 2013
Date of Birth: May 6, 1929
Biography:
Verna A. Cote, 84, passed peacefully on November 9 with her loving family surrounding her.  Born on May 6, 1929, to Ortho and Georgianna (Smith) Dolloff in Winthrop, Maine, and raised in Mt. Vernon, Maine, along with her three sisters.  She ventured to Connecticut and later to Atlantic City, NJ, at a young age to work and make her own way as a waitress where she met many celebrities.
She married Joseph Guenette and accompanied him to Germany after World War II where she was known to feed orphaned children.  Verna and Joseph divorced and their union produced one daughter.  She then moved to Auburn, Maine, to be closer to family while raising her daughter.  In 1967, she met and later married Maurice Cote and they were together until he passed in June 1985.  She worked at several area restaurants as a waitress and cook.  After retirement, she continued to enjoy cooking and sharing her culinary skills with family and friends.  Just about everyone she knows has a fond food memory.
Verna enjoyed spending time with friends and family and was frequently known with socialize with an Old Milwaukee.  She loved the Red Sox, "gambling," and most especially doting on grandchildren and especially her great-great nieces.
She was predeceased by her parents, her three sisters and brothers-in-law Florence and William Cummings, Madeline (Ranger) Guerney, Oscar Ranger, and Marion and Wayne Walker, and nephew Douglas Walker.
She is survived by her daughter and son-in-law, Sharon and Richard Nielsen, her step-son, Paul Cote, Sr., grandsons Paul Cote, Jr. and Brian and Eric Nielsen, and her special nephew and his wife, Rance and Sue Ranger, and great nephews and great niece and their spouses, Jason and Sara Ranger, Ronald Ranger, and Jenny and Dennis Russell and their wonderful families.  She had many very special family members and friends too numerous to list.  She lived simply and loved well and will be missed.
A memorial service to celebrate Verna's life will be held on November 15 at 1:00 p.m. in the Chapman Room at Gracelawn Memorial Park located at 980 Turner Street, Auburn, Maine.
Condolences may be expressed at www.funeralalternatives.net