« Obituaries | Leonard J. Cote
Leonard J. Cote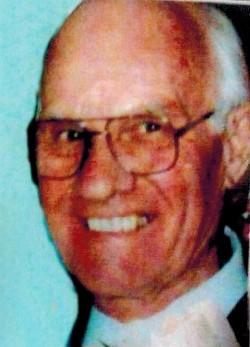 Date of Death: January 21, 2019
Date of Birth: March 18, 1920
Biography:
Mr. Leonard J Cote (Lenny), of 25 8th Street, Auburn, passed quietly in his sleep of natural causes the morning of Monday, January 21, at Marshwood Nursing Home in Lewiston, where he had a brief 3-week stay. He was 98 years old. 
He was born on March 18, 1920 in Sherbrooke, Quebec, Canada, son of Albina Cote and Alphonse J Cote.
Lenny attended grade school at St. Louis in Auburn. It became obvious early on that he preferred working with his hands and with wood. He left school in 6th grade and became a carpenter alongside his father. He was never as happy as when he was building something. He even built a lattice fence once from vinyl mini-blinds he had saved in his shop for years. A nod to his depression-era frugality. He carried this love of construction and woodworking with him throughout his life.
Leonard joined the service during World War II. He was stationed in Paris,Texas, where he became a naturalized citizen. Upon returning home to Maine, he and his brother Roger took over the family business - Cote and Sons Construction - where he would spend the rest of his working life building homes and commercial buildings throughout the Lewiston\Auburn area. It pleased him to know all of his buildings were still standing to this day.
During those early years, he was a single dad raising his daughter Nancy. One of Nancy's fondest memories is of waking up each morning to the sound of her daddy singing, especially when it was her favorite song, The Mills Brothers "Paper Doll." The home they lived in, was the home Leonard built and lived in his entire life. Other family members lived there at that time too, including his mother, sister Rita Breau (Betty Cody) and her four sons, Lenny, Richard, Dennis and Bobby Breau. It was a close time for the family members living there, each generation helping the other.
After the completion of one of his construction projects in the 60's - The Steer House in Lewiston - he met the love of his life, Rachel (Charest) Kozak. She worked there as a waitress and he asked her on a date - that was 53 years ago. They married 8 years later. Along with Rachel came her two daughters, Kathy and Cindy. In true Lenny fashion, he opened his home and heart to them and accepted them as his own. The home he built hummed with love and activity. In later years, there were visits and sleepovers with grandchildren, time spent by the backyard pool and hours spent playing board games with Nani and Pop-Pop. On November 28, 2018, Rachel and Lenny celebrated their 45 wedding anniversary.
During his life, he embarked on many business ventures including investment real estate, Cote Mobile Homes and he also owned two mobile home parks. In his younger days he loved to sing and at times sang on stage with his sister Betty Cody. He was known then as the Smiling Yodeler. He loved to fish, bowl, play bumper pool, and golf.  He was a member of the New Auburn Social Club and the Martindale Country Club where he managed to hit a hole-in-one on several occasions. He enjoyed taking road trips with Rachel and she even talked him into taking a cruise once.
Lenny enjoyed life and was known for his gentleness, easy smile, the twinkle in his eyes and the constant song in his heart. Mostly though, he loved the simple things - spending time at home with his family, telling stories and rocking in his famous rocking chairs, especially on the porch while singing and watching the birds he loved to feed. He was a truly content man. 
He was predeceased by his mother Albina Cote, and his father Alphonse J Cote, brothers: Yvan Cote, Roger Cote, Paul Emile Cote and Bert Cote, sisters: Fernande Bissonnette, Florence Hooper, Rita Binette (Betty Cody).
He is survived by his wife Rachel Cote, his daughters Nancy (Cote) McCubbin and husband Donald, Kathy Whitney and husband David, Cynthia Nicholas and husband Bruce, grandchildren Jessica Moreau Berry and husband Jon, Jennifer Horne and husband Heath, Austin Fuller, Taylor Nicholas, Cody Nicholas, Noah Nicholas, Becca Lilja, Robinson Whitney and Rachel Whitney, great grandchildren Emma Horne and Sam Hathway, sisters Marguerite St. Onge and Lucille Arel and brother Normand Cote. He is also survived by many nieces and nephews and other extended family and friends. Special thanks to neighbors Paul and Jeanette Hould who were a tremendous support to the family when Lenny's health was failing. They brought countless pots of soup, ran errands and Paul spent many hours visiting with Lenny.
A memorial service in celebration of his life will be held at Funeral Alternatives, 25 Tampa Avenue in Lewiston, on Saturday, February 2nd at 11am (doors will be open at 10:30 for visitation).
Special thanks to the wonderful hospice team from Androscoggin Home Healthcare and Hospice for the care he received, including his nurse Holly, his aide Michelle and many more. Special thanks also to Kirsten Gaddas from Bridges Home Services for helping make his last days at home comfortable.