« Obituaries | Lena V. (Dunn) Cormier
Lena V. (Dunn) Cormier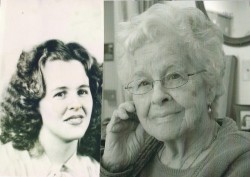 Date of Death: August 4, 2018
Date of Birth: July 1, 1922
Biography:
AUGUSTA - Lena V. (Dunn) Cormier, 96, formally of Farmingdale, ME. passed peacefully on Saturday, August 4, 2018 at Maine General Rehabilitation & Long Term Care at Glenridge, in the presence of her loved ones.
Lena was born in Gladeside, New Brunswick, Canada on July 1, 1922, to Frank and Ida (Gildert) Dunn. Lena married the love of her life Raymond Cormier on November 25,
1940 in Minto, New Brunswick, Canada and moved to the United States in October of 1945. Both Lena and Raymond received their citizenships on April 8, 1953. Lena and Raymond built their home in Farmingdale, ME in the 1950's. She was a stay at home mom until her children were in school. She then went to work at Hazzard Shoe Company in Augusta until it closed in 1972.
Lena was a wonderful cook, especially her homemade bread, apple pies and date filled cookies which were plentiful at all the holidays. She always did her summer canning of vegetables as well as pickles and her special relish from her garden. She shared her talents by knitting mittens and gave them for gifts to her children, grandchildren and great-grandchildren as well as to the needy families. She also loved to embroider dish clothes and pillow cases for family and friends. But most of all, her beautiful handmade quilts have become family treasures which will be cherished forever.
Lena is predeceased by her parents, Ida and Frank Dunn, her husband Raymond Cormier, her brothers, Leslie and Caleb Dunn of Canada, her sister Minnie Chase of Lisbon, Me. and a son in law Alexander Brinzow of Farmingdale.
Lena is survived by her only living sibling Lillian Otterson and her sister-in-law Elodie Dunn both from Moncton, New Brunswick, Canada. Her two sons Norman and wife Georgette Cormier of Hallowell, Richard and wife Joan Cormier of Farmingdale, her daughter Juanita Brinzow of Farmingdale. Seven grandchildren Randy Cormier, Adam Cormier and Carol Trask, Daryl Cormier, all of Farmingdale, Stephanie Cormier of South China, Natalie and husband Brian Grenier of Auqusta, Alexander R. Brinzow of Farmingdale, Melanie and husband Gary Deschambeault of Leeds. Two great-granddaughters Kelsey Cormier of Farmingdale and Braylin Bilodeau of Corinth, along with many nieces, nephews, and cousins in Canada.
We would like to say "Thank You" to all the Staff at Glenridge LTC, especially the nurses and CNA's working in the GREEN GARDEN for Lena's great care for the last seven years. A "Special Thank You to Evelyn Trask, grandmother of Kelsey Cormier for her devotion and Continued kindness to our mother to the very end.
There will be no visiting hours at her request. A memorial service will be held at the Wayside Chapel, located on the corner of Pond Road and Collins Mill Road in West Gardiner at a later date.

In lieu of flowers, donations can be made to: The Ronald McDonald House 250 Brackett Street, Portland, ME 04102 .
Condolences may be expressed at www.funeralalternatives.net
Arrangements are under the care of Funeral Alternatives Group 198 Western Ave. Augusta, Me 04330