« Obituaries | Rachel M. Coppens
Rachel M. Coppens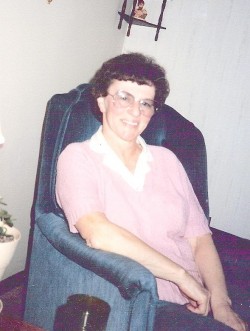 Date of Death: September 17, 2010
Date of Birth: April 29, 1933
Biography:
TOPSHAM - Rachel M. Coppens,  77, of Topsham died on September 17th, 2010 at Sedgewood Commons Nursing Home in Falmouth.
She was born on April 29th, 1933 in St. David,  the daughter of Josephel and Helene (Dufour) Picard.
Rachel married John Coppens on July 4th, 1955 and was a devoted wife, mother and grandmother
She enjoyed spending time with her grandchildren, music, canning, sewing and crafts. She also enjoyed spending time at their camp on Long Lake in Madawaska and helping to manage the family bakery business.
In 1975, her husband Jack purchased Dutch Girl Bakery in Brunswick and she became involved in many aspects of the business and its daily operation.
She was predeceased by her loving husband Jack of 54 years,
a sister, Jeannette Frink of Florida, a sister Anita Picard of St David, and a granddaughter, Kimberly Coppens of Holman Wisconsin. She is survived by her son, Kevin Coppens of Topsham and his wife Cheryl and their sons John and Joseph; son David Coppens of Holman, Wisconsin, and his wife Linda and daughter, Jennifer;  daughter, Anne Tripp of Saco, ME and her husband Joel and their children  Kerianne, Dana, and Forrest Tripp; brothers Maurice and Gerald Picard; sister Lucille Rogers; and many nieces and nephews.
Family and friends are invited to a memorial Mass at St. Charles Borromeo Catholic Church, Brunswick,  on Saturday, September 25th at 9:00 am.
In Lieu of flowers-donations may be made to :
The Alzheimer's Association, Maine Chapter
170 US Route 1 Suite 250
Falmouth, Me