« Obituaries | Edward George Cooper Jr.
Edward George Cooper Jr.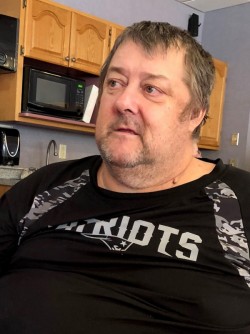 Date of Death: May 16, 2022
Date of Birth: May 27, 1959
Biography:
Edward George Cooper Jr.,age 62 died unexpectedly May 16, 2022, at Russell Park Rehabilitation & Living Center. He was born May 27, 1959, in Lewiston, the son of Edward Cooper Sr. and Lillian (Fisher) Cooper. Edward graduated from Edward Little High School. He enjoyed watching football, his favorite team being the New England Patriots. NASCAR was another sport he watched and his favorite driver was Tony Stewart. His favorite things to do was be around people/kids, he loved watching the smiles of his grandkids as they played and laughed. Edward is predeceased by his parents Edward and Lillian. Surviving are his children Chad, Taryn, Erika, Sabrina, Robert, Tyler, Christopher. Tammie, Joyce, 13 Grand Kids, his Siblings Butch, Scott Alice and many Nieces, Nephews and great Nieces and Nephews. Visitation will be held from10 am -Noon Wednesday May 25th at Funeral Alternatives, 25 Tampa St Lewiston. Celebration of life after services location is the Eagles Club 1327 Sabattus St Lewiston. In Lieu of flowers the family is asking for donations to help with Funeral costs. If you would like to donate please reach out to Taryn or Erika.