« Obituaries | Joan E. Coop
Joan E. Coop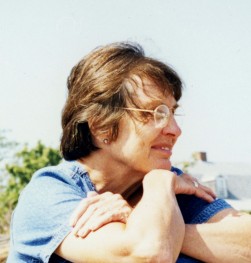 Date of Death: July 2, 2015
Date of Birth: July 27, 1936
Biography:
BRUNSWICK - Joan E. Coop, age 78, wife of William L. Coop, died peacefully and with dignity on Thursday July 2nd, 2015 at home surrounded by her loving family.
Joan was born in Dunellen, New Jersey to Alida Merker Herrlich and Homer Herrlich on July 27th, 1936. Joan is survived by two daughters, Alison Ferris (Peter Shellenberger) of Edgecomb, Maine and Laura Ferris (Garrett Hamlin) of Troy, New York. She leaves four grandchildren, Sophie, Eliza, Peter, and David. She is also survived by her stepchildren Dan Bertini (Alice) and Joe Coop (Janelle) and their children Walter, Caroline, Jana, and Chloe of Colorado. She leaves a sister, Jean Timpert of Arvada, Colorado and several nieces and nephews.
Joan worked as a Christian Educator for the First Presbyterian Church of Troy and later as Associate Executive of the Albany Presbytery. As a certified Christian Educator, Joan developed programs, wrote curriculum, led workshops throughout the country and was chair of the Education Unit of the General Assembly of the Presbyterian Church. She was a member of the Association of Christian Educators from which she was honored with a lifetime achievement award. She retired in 1992 to become a volunteer at Stony Point Center in Stony Point, New York. Joan later moved to Syracuse, New York with her husband and developed a tutorial program for at risk inner-city children at South Presbyterian Church and was a docent at the Everson Museum of Art.
Joan and Bill moved to Maine in 2007 where she devoted herself to gardening, painting, sewing, exploring the Maine coast, and engaging in efforts to preserve the natural environment. Joan remained active in the church by serving as both an elder and deacon at Mid-Coast Presbyterian Church where she touched many, many lives with her loving and prayerful care. As a devoted mother and grandmother, she loved spending time with her family and sharing the natural world with them. Joan's life was committed to peace and justice and the integrity of creation.
A memorial service in Joan's honor will be held at Mid-Coast Presbyterian Church in Topsham on August 8, 2015 at 2:00pm followed by a reception.
In lieu of flowers, donations can be made to Mid-Coast Presbyterian Church, P.O. Box 211 Topsham, ME 04086, the Brunswick-Topsham Land Trust, 108 Maine Street, Brunswick, Maine 04011, or Stony Point Center in Stony Point, New York, 17 Cricketown Road, Stony Point, New York 10980.