« Obituaries | Thomas Calvin Coolidge
Thomas Calvin Coolidge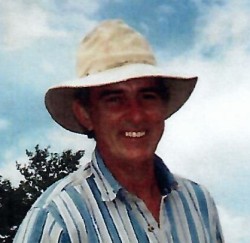 Date of Death: November 6, 2022
Date of Birth: September 29, 1943
Biography:
Bowdoin - Thomas Calvin Coolidge, Jr., age 79, of Bowdoin Maine, died Sunday November 6, 2022 at his home. Thomas (Tom, Tinker) was born on September 29, 1943 in Karnack, Texas.
Thomas loved history, science, welding and making machines go. At the time of his death he was enjoying studying the history of his family with his Ancestry subscription. He was curious and a deep thinker. He enjoyed gardening, haying, his animals, his chickens and his friends.

Thomas attended Ware and Foster Elementary School, G. K. Foster Junior High and Longview High School. He played the trombone in the High School Band. He attended the United States Merchant Marine Academy in Great Neck, New York. After leaving the academy, he worked on the USS Hope Hospital Ship. When Richard Nixon lifted the embargo on Russia because they were facing famine, Thomas was on the first ship that sailed into Russia with wheat. After the death of Moa Tsa Tung he was on one of the
first ship's into Communist China. He rose to the position of Chief Engineer while working for the Lykes Brother's Steamship Company.
Tom was predeceased by his daughter Anabella Coolidge-Winters, his parents Thomas Calvin Coolidge, Sr and Faye Dumas Coolidge and his grandparents were Elmer Raymond and Bessie Coolidge and Sydney and Stuart (Brown) Dumas.Survivors include his wife, Wendy Greenbaum; his brother Tag Coolidge; his sister Peggy Rohrer; his daughters Beth Birge, Rachel Coolidge and Helen Coolidge; his son-in-laws Cassey Birge and Dustin Meneley; his grandchildren Cabe Birge, Ashtin Birge, Caleigh Birge, Caden Birge, Carol Birge, Mia Meneley, Landon Meneley, Cooper Meneley and Carmon Winters; his great grandchildren Jeremiah and Elijah Birge; his friends Josh Manson, Shane Manson, Sue Skelton, Chuck Savage, Lori Turcotte, John Meserve, Mike Rivera, Liz Curtis, Brenda Coffey, Kat, Al, Dot and many others.
 A service for Tom will be held in the Spring. In lieu of flowers donations to the following are suggested: The Dempsy Center in Lewiston Maine, The Hope Heaven Gospel Mission in Lewiston Maine, The Coastal Humane Society in Brunswick Maine, Mr Coolidge will be missed.