« Obituaries | Angelique V. Comeau
Angelique V. Comeau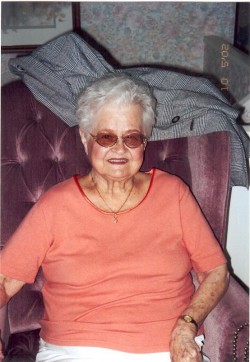 Date of Death: June 15, 2010
Date of Birth: April 3, 1912
Biography:
LEWISTON – Angelique V. Comeau, 98, of Lewiston, passed away on June 15th, 2010 at Russell Park Rehabilitation Center.
She was born on April 3rd, 1912 in Lewiston, the daughter of Onesime and Rose (LaChappele) Vermette.
After school she worked for many years at Ward Bros., JCPenney, and Knapp Shoe until she retired at 75 years of age.
Upon being married to Albert Comeau, they had two children, and became long time residents of Lewiston.
Angelique was a member of St. Joseph Church. She enjoyed dining out, cooking, playing cards with friends and relatives, and especially spending time with her family.
She is survived by a son Stephen Comeau and wife Doris; daughter Lana Nye; sister Rita Roy; grandchildren Dean Nye and wife Jackie, Renee Roy, Stacey Bashaw and husband Travis, Jeff Comeau and wife Ashley; great-grandchildren Heather Nye, Wyatt Roy, Brayden Bashaw, Hunter Bailey; and many nieces and nephews. She was predeceased by her husband Albert; brothers Edward and Normand Vermette; and sister Regina McCullough.
The family would like to express a special thanks to the Russell Park Rehabilitation Center for their wonderful care.
NOTICE
COMEAU Angelique V., 98, of Lewiston, passed away in Lewiston on June 15th, 2010. A Memorial Mass will be held at Holy Cross Church, Lewiston, on Friday at 11 AM with committal to follow at St. Peter's Cemetery.