« Obituaries | Gerald E. Colson
Gerald E. Colson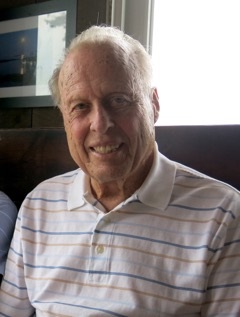 Date of Death: February 7, 2018
Date of Birth: May 21, 1930
Biography:
TOPSHAM - Gerry died peacefully on February 7, 2018 in the Governor King Community at the Highlands in Topsham, Maine. Born in Rochester, New York on May 21, 1930, Gerry graduated from The Harley School. While attending Harley, Gerry and his future wife, Susanne Pulsifer, were elected President and Vice-President of the Junior Class. Last October 2017 marked the 70th anniversary of Sue and Gerry's first date.
In the midst of his undergraduate studies at Bard College, Gerry left for a stint in the Army and served in Korea. He and Sue were married on August 20, 1952 and, two years later, Gerry completed his Bachelor of Arts degree in Chemistry. They moved together to Ithaca, NY where Gerry completed his MBA at Cornell University and was offered a job at Corning Glass Works. Always ready for a new challenge, Gerry gradually climbed up the company ladder, accepting positions in Corning, Toronto, and Wilmington, NC. The tremendous social changes of the 60s and 70s also transformed Gerry's outlook, social views and personal goals. He left corporate life after 20 years to manage, with Sue, Tuttle Brothers, a picture framing, paint, and art supply store in Peekskill, NY. After five years, they sold the business to help their son realize his dream to establish New Leaf Farm in Durham, among Maine's first generation of certified organic farms. Gerry happily traded his suit and tie for a pair of dungarees, and for another 20 years transplanted seedlings, plowed fields, and made deliveries to restaurants and markets throughout the greater Portland area.
Gerry was a dedicated provider. His greatest love was for his family and friends. In partnership with his wife, he valued quality time with those he loved, whether it was taking their children canoe camping in Algonquin Park, driving his grandchildren in his motorboat on Sebago Lake, or sitting around a table with anyone who enjoyed laughter, stories and good food as much as he did. When friends asked him, "How are you doing, Gerry?" he frequently answered, "Only great."
Gerry is survived by his wife, Susanne, his son David and his wife Christine, his daughter Deborah (Debka), four grandchildren, two step-grandchildren and their families, and more dear friends than can be counted. Gerry's huge grin will be remembered and deeply missed by all who knew him. In lieu of flowers, donations can be made to The Maine Organic Farmers and Gardeners Association (MOFGA) in Unity, Maine.