« Obituaries | Jane Pierce Collins
Jane Pierce Collins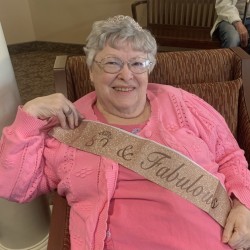 Date of Death: October 3, 2023
Date of Birth: June 9, 1943
Biography:
Jane Pierce Collins, 80, of Harpswell, Maine died peacefully at her home with her family by her side, on October 3, 2023. She was born on June 9, 1943. She graduated from Brunswick High School and Becker College in Massachusetts, where she graduated with an Associates Degree. For many years, Jane worked as an Office Manager at a local business in Harpswell. Later, she retired from Bowdoin College where she worked in the library for many years.
Jane lived her entire life in Harpswell where she was an active member of the Elijah Kellogg Congregational Church and the Merriconeag Grange. She enjoyed volunteering her time at the church suppers and events. Jane also had a love and passion for reading. She was known for her collection of books and you could always find her reading wherever she went.
Jane and her husband, Richard Collins, spent 57 years together where they both enjoyed camping and traveling with friends and family. For many years, Jane and her husband traveled around the U.S. in their motorhome. Her and her husband, also loved round and square-dancing, where they spent many years dancing together. Every week, Jane put on a family dinner where she enjoyed cooking and baking for her friends and family.
Jane is survived by her daughter, Suzanne Gagne and her husband Ronald, and granddaughter Erica Davis. Her son, Richard Collins Jr., granddaughter Courtney Collins, grandson Michael Collins, great-grandchildren, Maci, Ryker, James, and Damien.
The family would like to thank the staff of the Highlands Cadigan Lodge for their exceptional care of Jane in her final years.
In Lieu of flowers, donations can be made to the Elijah Kellogg Congregational Church in Harpswell.
There will be a service held at 11:00am on Saturday, October 21st at the Elijah Kellogg Congregational Church in Harpswell.