« Obituaries | Stephen Risley Collins
Stephen Risley Collins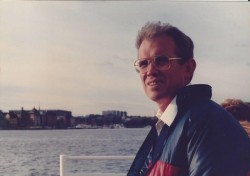 Date of Death: August 25, 2021
Date of Birth: December 18, 1938
Biography:
Stephen Risley Collins passed away on Wednesday, August 25th, 2021 at MidCoast Hospital in Brunswick, Maine due to complications from pneumonia. 
 Steve was born in Lewiston, Maine on December 18th, 1938 and was the only child of Helen Campbell Collins and Charles Sidney Collins.  Steve attended Cushing Academy in Ashburnham, Massachusetts and spent summers at his family's camp in Belfast, Maine. After graduation from high school he attended the University of Maine at Orono where he received a Bachelor of Science in Chemical Engineering and a Master of Science in Papermaking.  While at University, Steve was a member of Sigma Chi fraternity, competed in the high hurdles on the track team, and met his first wife, Martha Haskell Collins.  Together they had three sons, Chris, Chuck and Craig Collins.
Steve entered the Army as a Second Lieutenant and served active duty for two years in Ordnance.  He was a marksman on the army rifle team, made lifelong friends, and was honorably discharged as a Captain.  Steve began his career as an engineer in the paper industry immediately after leaving the Army and held several production and technical positions throughout his career.  After working around the country and on projects around the world, Steve finally retired with Sandy Collins, his second wife of 36 years in Harpswell, Maine.  The two of them shared many happy years with friends, children, grandchildren and great grandchildren, splitting their time between Maine in the Summer, and Florida in the winter. 
Steve was active with the American Legion Post 171 in Harpswell, Maine.  He enjoyed hunting with his children and grandchildren and always made sure that they knew how to handle firearms safely.  Steve also loved hiking with his sons as well as golfing and fishing with friends and family.
 A memorial service will take place Sunday, 2:00 on October 3rd, 2021 at Hillcrest Cemetery behind the Kellogg Church in Harpswell, Maine.  RSVP to:
Chris Collins
(904) 238-5365
ccc0418@yahoo.com
In lieu of flowers, donations may be made to the American Legion, Post 171, Harpswell, Maine.