« Obituaries | Lincoln H. Colby
Lincoln H. Colby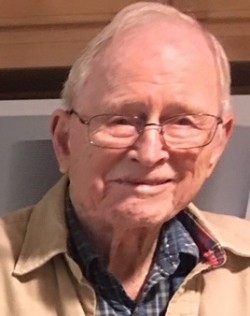 Date of Death: March 3, 2019
Date of Birth: August 30, 1924
Biography:
BRUNSWICK - Lincoln Hannibal Colby, 94, of Brunswick died on March 3, 2019. He was born August 30, 1924 in Lemmon, S. Dakota the son of Roy B. and Hazel (Hackett) Colby. He had a younger brother, Gene Colby, who predeceased him.

He was a graduate of Brunswick High School, the class of 1942, he also attended Gould Academy for 1 year, and graduated from Cincinnati College of Pharmacy.
Lincoln was a member of the Eagle Scouts in Brunswick, a founding member of Meeting Planners International, as well as being involved in SCORE (Small Business Startup Guidance), Volunteer Supervisor of Renovation at Tedford Shelter, and Advisor at Brunswick Technical High School.  
Lincoln enjoyed bird watching, gardening, carpentry, travel, and photography.
He was a medic in the Army during WWII, and a Bronze Star Recipient.
Lincoln was employed by Merck Sharp and Dohme for his entire career and was Director of Field Education and Development  for many years before retirement.
He was predeceased by his parents, Roy and Hazel Colby, his brother, Gene Colby, his first wife, Jeanne Colby, and daughter, Marilyn Colby.
He is survived by his wife, Jane Colby; children, Sally (Colby) Scholle, Alan Colby, Barbara Colby, and Robert Colby; stepchildren, Julie Nisbet, Jan Nisbet, and William Nisbet; grandchildren, and great grandchildren.
A Celebration of Life to take place in the Spring will be announced at a later date.

In lieu of flowers, donations may be made in Lincoln's memory to Pine Tree Camp, 149 Front Street, Bath, ME 04530, and/or CHANs Home Health and Hospice, 45 Baribeau Drive, Brunswick, ME 04011.