« Obituaries | Marion Louise Cochran
Marion Louise Cochran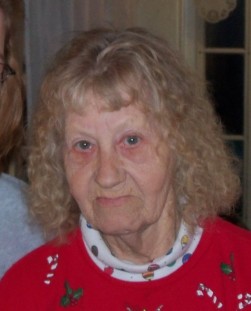 Date of Death: June 16, 2012
Date of Birth: September 10, 1930
Biography:
LEWISTON – Marion Louise Cochran, 81, of Canton, died unexpectedly June 16th 2012, in Lewiston with her loving family at her side.
She was born on September 10th, 1930 in Patten, the daughter of Leslie and Stella (Foster) Grant. She was one of thirteen children.
Marion enjoyed collecting dolls, crocheting, working in her flower garden, and spending time with her companion and protector Shenandoah.
She worked the last 23 years at the Victorian Villa Rehabilitation Center where she was loved by staff and residents.
Marion was predeceased by her husband Alfred (Dick) Cochran Sr.; son Alfred (Shorty) Cochran Jr.; daughter Candida Royer; and grandson Randy Cochran. She is survived by her daughter Delia Sessions and companion Brian Clemmons of Turner; son in law Doug Royer of FL; daughter in law Sarah Cochran of Turner: grandchildren Alfred (BooBoo) Cochran of Canton, Robert Rundstrom Jr. of Canton, Laura Bradman and husband Donald of Lewiston, Linda Rundstrom of OH, Angel Rundstrom of Lewiston, Leslie Royer of VA, Jason Royer of VT, Mandy Royer Long of VT, Joanne Posik and her husband James of Turner, Robin Levasseur and companion Loui Crowell of Turner; 13 great-grandchildren.
Family and friends are invited to a graveside service on FRIDAY, June 22nd, at 11 AM at Turner Village Cemetery, Main Street.