« Obituaries | Patricia Steffens Clark
Patricia Steffens Clark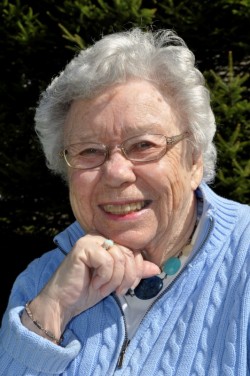 Date of Death: April 25, 2021
Date of Birth: November 13, 1923
Biography:
Topsham, ME - Patricia Steffens Clark, age 97, of Topsham ME and Center Ossipee NH, died on April 25, 2021 in Topsham ME. Patricia was born in Farmington ME in 1923 to the late Richard and Dorothy (Buker) Steffens.
Pat graduated from Palmer (MA) High School and Wheaton College, Norton MA as a member of the class of 1945. Her college years coincided with
those of World War II and she often shared memories of the impact the war had on her college experience - rationing, blackout shades, and
transportation restrictions. After college, Pat moved to New Haven, CT where she worked as a claims adjuster for Liberty Mutual Insurance Co.
It was in New Haven that she met her future husband, Cornelius E. Clark, Jr., a law student at Yale. They married in 1948.
Pat lived in Farmington, CT and later in New Britain, CT. She became an active member of the Junior League of New Britain, working on early
childhood education projects and supporting the Art Museum of New Britain. She became a Kindergarten teacher in New Britain. Pat received
a Masters' degree in Education from Central Connecticut State University and a 6th year certificate in School Psychology from the University of
Hartford. She became District Supervisor of Psychological and Social Work Services in the New Britain School district, until her retirement in 1985.
During retirement, Pat lived in Nokomis FL and Center Ossipee NH. She volunteered at the libraries in both towns to promote literacy. She loved to travel and was always planning her next trip. She traveled throughout the US and to nearly every continent in the world. She and Neil spent 13 summers on the Isle of Skye, Scotland.
In 2005, Pat moved from Nokomis FL to The Highlands in Topsham, ME. She chose to live out her last years near Bowdoin College in order to audit courses there. She especially enjoyed auditing film courses, as she loved old movies and Hollywood. She spent six months a year at her
cottage in Center Ossipee, NH where she volunteered as a docent at the Castle in the Clouds in Moultonborough, NH until 2016. She enjoyed
learning new things. When she was 90, Pat was given an iPad which she always said was the best present she ever got. She used it to contact
old friends and research her genealogy. During the Covid-19 pandemic, she learned how to use Zoom!
Pat's husband, Neil, predeceased her in 2018. Pat is survived by her son, Jonathan, of Hartford CT and her daughter, Amy and her husband,
Paul DeSimone, of Cambridge MA, and her grandchildren, Alison DeSimone (John Chittum) of Kansas City MO and Nicholas DeSimone (Megan Cooper) of Reading MA.
Pat's family members wish to express their profoundest thanks to caretakers, activities coordinators, social workers, hair stylists, and administrative personnel at The Highlands, CHANS Hospice, and Neighbors Inc. for the joyful, compassionate, and loving way they have cared for Pat since 2018. There will be a private graveside service at the Grant Hill Cemetery in Center Ossipee NH, date to be determined. In lieu of flowers, contributions may be made to the Ossipee Public Library, PO Box 638, Center Ossipee NH 03814 (http://ossipee.lib.nh.us/) or the Lakes Region Conservation Trust, PO Box 766, Center Harbor NH 03226 (https://lrct.org/join-support/donate-now/)