« Obituaries | Therese M. Chouinard
Therese M. Chouinard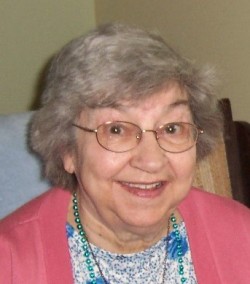 Date of Death: March 22, 2010
Date of Birth: July 24, 1931
Biography:
THERESE M. CHOUINARD
1931-2010
Therese M. Chouinard, 78, formally of Leeds, passed away peacefully on Monday, March 22nd at d'Youville Pavilion with her family by her side.
A longtime resident of Leeds, she was born in Riviere Du Loup, Quebec on July 24, 1931, the daughter of Florian and Bertha (Ouellet) Caron. She migrated to the United States with her family at an early age and attended schools in Auburn. She received her GED in 1972.
Therese married the love of her life, Raymond P. Chouinard, on June 9, 1951. They resided in Lewiston for several years until they made Leeds their permanent residence in 1976.
During her life, Therese worked in many local shoe factories. She retired as Accounting/Office Manager from Supreme Slipper in 1995. She enjoyed following her husband's band when he entertained the masses, especially when he had "gigs" at the Indian Head Resort in NH.  She was very proud of her French heritage and was the picture perfect stage wife, exuding poise and class everywhere she went.
She was also very deeply involved in her faith.  She was a member of St. Francis Xavier Parish in Winthrop. She loved organizing and being a part of many prayer meetings. She was always the one people called when they needed someone to be prayed for. The family always joked that she had a "direct line" to the big guy in the sky. In addition, she had a very strong sense of family and loved hanging out with her cousins playing cards, or just sitting around talking about the "good ol' days".
Therese is survived by her son Richard and wife Lynn (Martin) of Bedford, TX; her daughter Ann and husband Peter Brown of Leeds; her sisters Fernande Cyr and husband Robert of Auburn and Irene Ott of Belchertown, MA; grandchildren Joshua Baril of Leeds, Derek Chouinard of Bedford, TX and Jennifer Montalvo and her husband Carlos of Raleigh, NC as well as 2 great-grandchildren and many nieces and nephews. She was predeceased by her husband of 55 years; her son, Ronald; her brothers Remi and Noel Caron and her parents.
The family wishes to send a heartfelt thank you to the staff of 3East at d'Youville Pavilion for the loving care, joy and sincere compassion that was given to Therese during her stay. Words cannot express how thankful we are for all you did to keep her happy and comfortable during her final days.
.
Family and friends are invited to a memorial Mass on Thursday, March 25th, at St. Philip's Church, Turner Road, Auburn at 1 PM. Interment will be held at a later date at St. Peter's Cemetery.