« Obituaries | Gary D Chatto
Gary D Chatto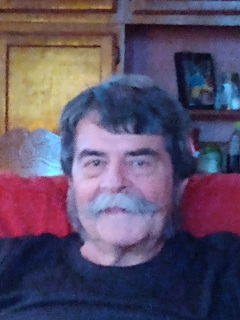 Date of Death: June 19, 2023
Date of Birth: September 1, 1951
Biography:

Gary Douglas Chatto Sr., 71, a lifetime resident of Augusta, Maine passed away on Monday, June 19th 2023 after a short battle with congestive heart failure.  He was born in Gardiner, Maine, the son of Robert F. Chatto Sr. and Frances Chatto on September 1,1951.
 He graduated from  Cony High School in 1969 . He worked a variety of jobs including meat butchering for Kirshners and Swift. Tree climbing for Rutland Tree Service. He was also a foreman for Kennebec Valley Tree Service, taking down some of the largest Elm trees in Augusta. Owning his own tree service for a bit as well. He also worked for Bath Iron Works for several years as stage builder.  
He had a love for the outdoors since boyhood. Gary and his brother Bobby had many whitetail deer and dog sled racing adventures as young men.He also enjoyed many seasons of deer hunting from the shack with his son Gary Jr. He was an avid trapper, hunter, and fisherman. He was a Registered Maine Master Guide for 43 years as well as an Alaskan Fishing Guide,where he ventured later in his life to his beloved Kodiak Island where he guided many people to their first 30 pound King Salmon. He loved to help others foster their love of the outdoors with his advice and experience.. Some of his most treasured adventures and memories took place with his lifelong friends Bob Smith and Jeff Pyska guiding fishing expeditions in the Alaskan backcountry. The story telling of his adventures will be missed by all who knew him. He loved living on the pond for all his life. You could find him  sitting around the campfire at the pond  on most weekends and reminiscing about his adventures of hunting and fishing in the wild woods of Maine and Alaska.  If it had to do with the outdoors he was there with advice and twinkle in his eyes. He had a way of making it seem like you were right there with him. You might say he was a master storyteller as well.
He was predeceased by the love of his life of 30 years, Pammy. He was also predeceased by his father, Robert F. Chatto Sr., his mother Frances Chatto, and brother Robert Chatto Jr.
He is survived by his son Gary Chatto Jr., his daughter Heidi Muse and husband Aaron Muse, granddaughter Mallory Muse, and grandson, Bradley Muse. He is also survived by his sister Nancy Biggs, her husband Mark Biggs, his nephew Travis Biggs, nephew Kurtis Biggs, his wife Ashley and grand niece Jade Biggs.
A celebration of life service will be held on Saturday, July 8th at 10:00 am, at           Cornerstone Christian Fellowship, 2539 Riverside Drive, Vassalburo, Me .  At Gary's request there will be no viewing services. 
 A private family graveside ceremony will be held at a later date.