« Obituaries | Richard Lawrence Chartier
Richard Lawrence Chartier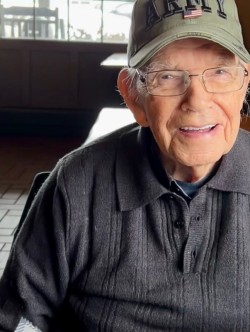 Date of Death: April 21, 2023
Date of Birth: April 16, 1931
Biography:
Richard Lawrence Chartier Sr, 92, of Brunswick Maine, passed away peacefully surrounded by his loving family on April 21st, 2023 at Togus VA Medical Center in Augusta ME.
Richard was born on April 16, 1931, to Joseph Chartier and Ida Dufour in Presque Isle, Maine. Richard joined the Army at 18 years old. He served from 1952 to 1954, He was very proud of his service in the Army. He loved telling old Army stories which he shared often with family and friends.
In 1972, he met Dorothy Allard (Dottie), and they wed on October 20, 1973, going on to have three children Richard Jr, Michael, and Michelle. They spent fifteen years living in Olney, Maryland where Richard worked as a cook at the National Institute of Health. They moved back to Maine in 1990 and settled down in Augusta. Richard worked for many years at the Augusta Wal-Mart. Until he was ready to retire, he and Dottie moved to Brunswick Maine.
Richard was a soft-spoken man with gentle, warm, and kind eyes to match his heart and was known to his family as Dad, Pops, Pepere, or Paypa. He was a very sweet, quiet man with a wicked sense of humor. He never missed an opportunity to tell a joke, not always appropriate but he loved to get a reaction. His jokes and stories will truly be missed. Richard enjoyed the simple things in life; like watching old westerns, scratch tickets, car rides with Dottie and his dog Teddy, and going out to eat (but we all knew he was going for the desserts). His greatest accomplishments in life were his family. You could see the pride in his eyes when he was surrounded by his loved ones.
Richard was predeceased by his parents Joseph and Ida, and brothers Wilfred, Donald, James, Edward, Joseph, and Robert. Sisters Leona, Florence, and Madeline; and son Donald Chartier.
Richard is survived by his loving wife of 50 years, Dottie of Brunswick, brother Albert Chartier of Winthrop, son Rick and his wife Jeanette of Gardiner, son Mike and his wife Nicole of Augusta, daughter Michelle and her wife Jessie of Topsham, stepdaughter Debbie Crocker and husband Charlie of Lisbon, stepdaughter Donna Welch, and sons Steve, John, and Scott. As well as his grandchildren Samantha, Stephanie, Amanda, Laura, Acadia, Danikah, Lexi, Olivia, and Madison.
A private service with family will be held at a later date.
The family would like to send a special thank you to the staff at Togus VA for their care and compassion.