« Obituaries | Varney Joseph Leonce Charron
Varney Joseph Leonce Charron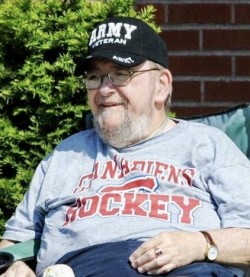 Date of Death: December 22, 2017
Date of Birth: February 17, 1948
Biography:

BATH - Varney Joseph Leonce Charron, 69, of Bath passed away peacefully on December 22, 2017 at Togus Springs.
Varney was born in Brunswick on February 17, 1948 and was the only child to Varney Joseph Charron and Yvette Belanger Charron, He attended St. John's Catholic School, and then went on to Chevrus High School. He then attended and graduated from Brunswick High School in1966. After high school he was in the army for four years.
He married Barbara Leavitt in1975 and had a daughter, Kimberly Yvettete Charron.
He was predeceased by Kimberly and Barbara. He is survived by his step-daughter, Jennifer Sherman, her husband James Robinson, her children Tyler Pelletier of Dover, NH as well as Ashley Doyle of Bath. Varney is also survived by a grandson, Anthony Oliver of Springfield Vermont, and his two great grandchildren, Finnley and Jude Doyle.
The family would like to thank all the people who cared for Varney. A celebration of life is planned for a later date.