« Obituaries | Doris Dottie Mary Chaput
Doris Dottie Mary Chaput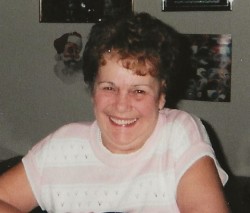 Date of Death: March 1, 2022
Date of Birth: May 17, 1937
Biography:
Doris "Dottie" Mary Chaput, 84, of South Paris, passed away peacefully on March 1st, 2022.
Dottie was born on May 17th, 1937, in Lewiston, Maine to Ulric and Mary Chaput.
Dottie was a long-time member of the snowshoe and Acme Club of Lewiston. She loved to get together with friends to dance (especially to the song "Wipe-Out") and spend time with her family. She was an avid lover of animals, most of all her beloved "Jumpa-Jump."
We will remember her for having such a kind and loving soul with a contagious laugh much like her daughter, Carol Anne.
She was predeceased by her mother Mary, her father Urice, her brothers Paul and Roland, her sister Lorraine, and her daughter Carol. She is survived by her children; Donald, Mary,Tammy, Addison, Joseph, and Brenda. Her grandchildren; Adam, Nicole, Sarah, Katie,Deanna,Cassie,Chelsea,Julie,Allison,Rya,Lindsey, Cortney, and Corey. Her great grandchildren; Landen, Cash, Gavin, Elora, Cove, Ivory, Elijah, Jackson, Wyatt, Nora, Owen, Kayden, Londyn, Grayson, Harper, Avery, Candace, Quinn, Lyndsey, Seth, CJ, and Chayli.
A celebration of life will be held on Friday, March 18th from 1-3 PM at the Funeral Alternatives on 25 Tampa Street, Lewiston, Maine.