« Obituaries | Dale A. Champoli
Dale A. Champoli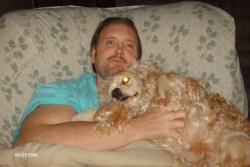 Date of Death: March 1, 2010
Date of Birth: January 16, 1961
Biography:
Dale A. Champoli, 49, of Upper Ridge Rd. died Monday March 1, 2010 at Bridgton Hospital.
He was born on Januray 16, 1961 in Tewksbury, Massachusetts the son of Don and Kay Champoli.
Dale was a graduate of Tewksbury High School, Tewksbury, MA and Lowell University, Lowell, Ma.
He enjoyed fishing, shell collecting, family gatherings, listening to music, watching the Boston Red Sox, New England Patriots and Boston Celtics.  Dale also enjoyed being with his children, talking with family and friends on the phone, teasing, making others laugh, laughing himself, cooking, traveling to Cape Cod, Talking about travels to Asia and Europe, being outdoors, 20 years in Sandwich, Massachusetts and his love of animals.
Dale worked in sales and service for a printed circuit board Co.
He was predeceased by his father Don Champoli, and in-laws Joseph and Glenny Snow.  Dale is survived by his wife Sarah Snow Champoli; children Alexandra, Anthony and Angelise; mother Catherine Champoli; brother Carl Champoli and his wife Joyce; sisters Gemma Champoli, Tina and Tom Kelsey; nephews Aaron and his wife Nancy and Jason Champoli; niece Emma Champoli; grandniece and nephew Kayla and Colin Champoli; and many aunts, uncles and cousins.
Celebration of Dale's Life and Memorial Service will take place on March 12, 2010, from 2-4pm.  at the Highland Lakes Resort, Rte 302, 115 North High Street, Bridgton, ME.
Light refreshments will be available following the service.
In Lieu of Flowers Donation may be made to the Champoli Children Future Fund.  An account has been set up for the children.
Please make check payable to Sarah M. Champoli,  in Memo: Note Champoli Children Future Fund.