« Obituaries | Maria E. Champagne
Maria E. Champagne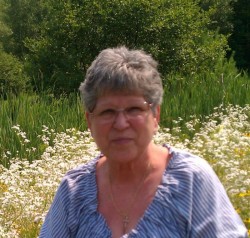 Date of Death: October 19, 2016
Date of Birth: January 1, 1940
Biography:
                                                      Obituary
Maria E. Champagne, 76, of Bridgton, Maine, was received into the arms of our Lord on October 19, 2016 in Auburn, Maine.
Maria was born on January 1, 1940 in Refugio, Texas.  She was involved with the Bridgton Women's Guild, Boo Boo Bears, St. Joseph's Catholic Church, and the Bridgton Food Pantry.   In addition to her passion for her family, Maria enjoyed traveling, camping and boating, gardening, knitting and quilting.  For many years, Maria worked in the hotel management industry.
            Maria was predeceased by her parents, Pedro and Elida Perez, her mother-in-law, Mary Alice Champagne, two brothers and three sisters. 
Maria is survived by her loving husband, Rosaire Champagne; her daughters,  Anna Granger (Dan Robey), and Cathy (Andres) Villegas; her stepchildren Bryan (Teri) Champagne, Lee Ann (David) Barnes, and Raymond (Linda) Champagne; her grandchildren, Jenny (Jake) Anderson, Travis Granger, Joseph Villegas, Nicholas (Courtney) Ward, Lindsay (Matt) Purtill, Courtni Ward, and Katrina Champagne; and eight great-grandchildren, seven sisters, brothers- and sisters-in-law, cousins, and other family members.
            Services will be held at St. Joseph Catholic Church, 225 South High Street, Bridgton, Maine on October 24, 2016 at 11:00 a.m.
In lieu of flowers, the family requests that donations in Memory of Maria E. Champagne be made to:
            American Heart Association, online at:  https://donatenow.heart.org, or by mail to
American Heart Association/American Stroke Association, PO Box 417005, Boston, MA 02241-7005.
            Mother Seton House (a nonprofit home for pregnant women in difficult circumstances), on-line at:  http://www.mothersetonhouse.com, or by mail to Mother Seton House, Inc., PO Box 673, Fryeburg, Maine 04037.
Please request that a card acknowledging the gift be sent to: Anna Granger, 42 Alexander Road, Brunswick, Maine 04011.